Link to original article: http://www.messengernews.net/news/local-news/2018/05/two-tales-of-the-pipeline/
Covered by The Messenger, Fort Dodge, Iowa, May 23, 2018
Some of the landowners in this article have spoken or will speak at Bold Iowa's "Stop Eminent Domain Abuse" Roadshow, which educates about the landowner lawsuit going to the Iowa Supreme Court.
Excerpt:
One negotiated a deal; another fought Dakota Access over right of way; their experiences could hardly be more different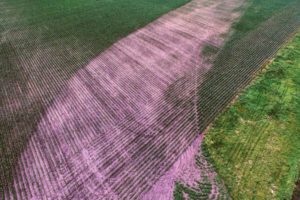 Some landowners along the route of an oil pipeline installed in 2016 claim the work left their soil compacted and upset their drainage, affecting their ability to grow crops.
Keith Puntenney, who owns farmland south of Harcourt, presented their complaints to the Webster County Board of Supervisors Tuesday, along with photos and documentation he said shows the issues have not been resolved.
For example, Puntenney said a berm on his land was flattened out as the pipeline was built, leading to erosion.
"I no longer have that berm in there," he said, referring to a picture. "You can see even though there's an erosion control device, the water is flowing right through there. There's a real problem with sheet erosion going on."
There are four major areas of agronomic concern as a result of the pipeline, he said: "Mixing of soils, soil compaction and drainage issues, negative changes in the nutrient and microbial life issues, and the failure to remediate those issues within the 18-month period the pipeline was actually given to do the remediation."
Puntenney, who is an attorney, said he's going along the pipeline route presenting landowner concerns to multiple counties.
He didn't ask for any action Tuesday, saying he only wanted to keep the supervisors informed; but when it comes time, he asks the supervisors not to certify to the state that the work is done.
"Our job is simply to inform you of what's coming, to give you an idea of the issues," he said.
Puntenney, LaVerne Johnson, and Dick Swanson, who all addressed the board Tuesday, claim the company hasn't fulfilled the requirements of the Agricultural Impact Mitigation Plan, as required by the Iowa Utilities Board which granted the pipeline permit.
"You folks hired a company called ISG Field Services to supervise the AIMP installation. We believe they did not do their job," Puntenney said.
ISG was hired by many of the counties along the 350 mile Iowa portion of the pipeline, which was built by Texas-based Dakota Access, LLC.
Puntenney and the others are also part of an appeal going before the Iowa Supreme Court in September which claims Dakota Access had no right to use eminent domain to work on their land.
These landowners, who fought against the pipeline company coming onto their land, say the Iowa Utilities Board shouldn't have granted eminent domain to the company. [Our emphasis]
Soon ISG will turn over all its documentation of the pipeline building activity to counties, Puntenney said.
"Once that has been turned over, ISG and Dakota Access will come to you and ask you to certify, as a group of supervisors, that the AIMP is complete, and has been followed," he said. "We're documenting that it is not complete and has not been followed. You don't have to certify that."
"You're the ones who have to determine, under the IUB regime, whether or not there is damage there, before it can go to any kind of compensation hearing or legal proceeding."
Referring to documents from Webster, Boone and Story counties, Puntenney provided photos which he said showed drainage tile installed incorrectly–with the splices backwards–that will have to be redone by the farmers.
He said crews worked in heavy rain, causing extra compaction of the soil.
Crews were supposed to separate topsoil from the clay farther down, and then replace it when they were done, but Puntenney claimed in some cases not enough topsoil was removed.
"They were supposed to take all that black soil, in some places it measured 17 to 24 inches," he said. "They set their dozers at 12 inches."
"This is documented in ISG reports," said Janet Holmes, of Ag Advisory LTD in Algona. "In some cases they told them 'You are not taking it all off.' They were only taking off the minimum."
Puntenney pointed out the passage in the AIMP which said topsoil would be stripped to a maximum depth of 12 inches "or, if the topsoil depth is greater than 12 inches, the actual topsoil depth if requested by the landowner."
Puntenney said Michael McNeill, a soil scientist from Ag Advisory "has been hired by LaVerne and I and Dick and a bunch of other landowners to look at the damages that resulted from the pipeline.
"On my farm we've done microbial studies and soil compaction studies. We now know that the right of way itself, because of the disturbance, has caused significant reductions in terms of microbial, bacteria and fungi, that are going to have to be dealt with."
In many cases crops won't grow as well where the construction right of way was, Puntenney said. He showed a picture of the contrast on Johnson's land in 2017.
"Crop losses are going to be the result of a number of things. One, not enough topsoil was returned, and secondly the construction disturbed the soil structure. We've already talked about the microbes, and the enzymes, all the structures that are affected as a result. They also brought the parent soil up into the topsoil, so we have pH issues," Puntenney said.
"LaVerne this year is not planting a crop in his right of way. He's actually going to plant sunn hemp," Puntenney said. "That sunn hemp has a very deep root structure."
He said crews pumped water out of the trench during rain, but in doing so also pumped silt and clay onto the crops.
"And that yellow clay was brought up to the topsoil. Yellow clay prevents the water from going down into the soil," he said.
The AIMP also said landowners were required to get two week notice before pending construction, and another notice 48 hours before work began.
He claimed he hadn't received these notices, and that work also went on without ISG personnel knowing about it, leaving them unable to supervise.
"Most of us got no notice at all," Puntenney said.
"We have notes from ISG complaining about Precision Pipeline not giving them notice," Holmes said, referring to the contractors used by Dakota Access.
"My son caught them working on my land," Puntenney said. "The ISG inspector was 100 miles away. … By the time he got there all that was left was a tiny hole for him to inspect."
Landowners also weren't allowed into the right of way to see the work themselves, he said.
Mitigating these problems will take time and money. Just to do the analysis to find out what's wrong with the soil can cost $6,000 to $10,000 per parcel, he said.
"The landowners should not have to pay that burden," Holmes said.
"Some of these are fixable in three to five years, we think," Puntenney said. "Some like the compaction can probably never be fixed in our lifetime."