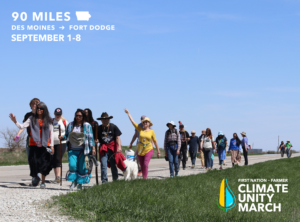 Click to donate between now and June 8!
https://www.mightycause.com/story/Climatemarch
YOUR DONATION WILL SUPPORT…
The creation of a short, snappy video by natnif explaining the Landowner / Sierra Club lawsuit against the Iowa Utilities Board, and promoting the First Nation – Farmer Climate Unity March, September 1-8. The video will provide stories from farmers whose land has been damaged by the Dakota Access pipeline. It will be shown during Bold Iowa's "Stop Eminent Domain Abuse" Roadshow and spread far and wide on social media.
Additional donations beyond the cost of film production will go towards scholarships to support marchers in need of financial assistance.