Monday, July 1, 2019
Adel
Bird Dogs: Samantha Kuhn
Bird dog Samantha Kuhn went to Adel for a meet and greet with Amy Klobuchar and asked if she would be a part of the Climate Debate.  Looks like she's in as well.  The moment was also caught on camera by C-SPAN, click on the link to watch!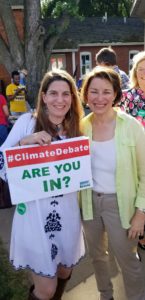 C-SPAN Clip: Amy Klobuchar with Samantha Kuhn
*******
Sunday, May 26, 2019
Boone
Bird Dogs: Sid Barfoot, Mark Clipsham
Mark Clipsham writes: "I liked her, and found her very personable without the politician feel. That said, she talked a lot about health care, but not about health. She talked a lot about helping farmers, but not about the fact that we need a different kind of farmer and food chain/sourcing. She didn't seem to be able to connect all the dots.
"We need to point out to the candidates that the American consumer is kind of like a goose being prepared for pate. Over production means marketing stuffs materialism down our throats until we are sick with excess. Exhibit A: the health and mental health care crisis. The vast majority of people I see at the clinic are there because of poor diet and lack of exercise. We are marketed products loaded with salt, sugar and fat, when what we need are fruits and veggies."
*******
Saturday, May 25, 2019, 6:00 p.m.
Des Moines
Bird Dogs: Channing Dutton
Channing writes: "Amy Klobuchar saved the best til last at her birthday bash this Saturday night in Des Moines. A crowd of more than 200 heard her take apart Donald Trump on issue after issue. Then, to close she turned to climate change and spoke for 5 minutes about her passion for action. She has a firm grasp of the urgency and spoke of day one action from a President Klobuchar to restore the action programs being undone by Trump at this very moment.
"The only troubling aspect of the speech was the lack of a comprehensive climate action plan beyond the words, "I will act." With Washington Governor Jay Inslee leading the way and Senator Elizabeth Warren pivoting toward her own action plans now is the time for Klobuchar to answer the bell and lay out the details of how she will act on climate with detailed proposals. Hint: No more horsing around with small steps. Rejoining the Paris accords is not nearly enough."
*******
Saturday, May 25, 2019, 10:00 a.m.
Decorah
Bird Dogs: Toby Cain, Julie Fischer, Ruth Huffman
Toby reports: "Senator Klobuchar talked about our signs in her speech this morning and said that climate is a Day 1 and Day 2 priority. Tons of folks asked me for signs afterwards so I'll print more next time. 🙂 We had a dozen."
Ruth writes: "Sen. Klobuchar wouldn't take my question. She looked me in the eye several times, then looked away and chose someone else. When another person recorded a question, she said, "People who record are usually plants." I was recording all of her climate points, so we probably need someone with no signs and no obvious recording to get her to take our questions."
*******
Friday, April 12, 2019
Des Moines
Bird Dogs: Claire Guderjahn, Shari Hrdina
Shari writes: "This was a private event for the Asian & Latino Coalition, so her stump speech focused on their issues. None of the questions asked during the formal portion were related to climate, however she did bring up climate in one of her answers. After the event, we were able to ask her a question, how she could bring climate to the forefront of her campaign.  She did not answer that question, but rather talked about the climate action she would take when she was president."
*******
Saturday, February 16, 2019
Mason City
Bird Dog: Mark Kuhn
Mark writes: "Sen. Klobuchar pledged at a well-attended event that if elected president she would re-enter the Paris Climate Accord on her first day in the White House. Also, as reported in the Mason City Globe Gazette, Lydia Futrell, a 17-year-old student from Clear Lake, told Klobuchar that her top two issues were climate change and gun violence."