Summary of Biden and Harris stated opposition to expanding the Dakota Access Pipeline
On the campaign trail in Iowa in 2019, Biden and Harris spoke out repeatedly against doubling the flow of oil through DAPL. They need to cancel the pipeline's expansion … NOW!
*******
Sunday, January 26, 2020
Des Moines
Bird Dogs: Shaun Ahern, Kathy Byrnes, Ed Fallon and Samantha Kuhn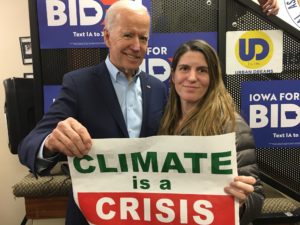 Samantha writes: This was an event at Urban Dreams, a non-profit that works with Des Moines' Black community. Joe Biden's approach to convincing people to vote for him was bizarre. Ed asked him about his contradictory positions on pipelines, since Biden claims to be anti-pipeline but also wants to rebuild and replace older pipelines. When asked about this, he informed Ed, "Go find yourself another candidate."
We were grouped together when Ed asked Biden for a picture. When Biden told Ed, "No," we started to leave. Then Biden asked me if I wanted a picture with him, even though I was carrying a "Climate is a Crisis" sign. I commented "But, you just said 'No' to a picture," to which he responded, "I'll take a picture with you."
TAKE A LOOK AT BIDEN'S RESPONSE TO ED IN THE VIDEO BELOW.
*******
Saturday, November 23, 2019
Des Moines
Bird Dogs: Kathy Byrnes and Ed Fallon
Ed asked Biden a couple questions about pipelines. Biden seems to feel we have to REPLACE leaking oil pipeline lines, so fossil fuels can be transported more safely because we NEED access to that oil. Watch his dialogue with Ed.
*******
Monday, November 11, 2019
Grinnell
Bird Dogs: Kathy Byrnes, Ed Fallon, Keir Hichens and other Grinnell College students
Ed asks Biden to issue a statement about the proposed doubling of oil through the Dakota Access Pipeline. He says he won't do that and that he's against pipelines. Then he goes on to say that we need to dig up old gas pipelines that are leaking methane and replace them.
"Biden can't have it both ways," writes Ed Fallon. "You can't say you oppose pipelines one minute, and the next minute say you want to replace them. Replacing pipelines only further ties us into the death spiral of more and more greenhouse gas emissions."
Kathy tries to confirm that Biden won't issue a statement on the Dakota Access Pipeline. Then Keir Hichens and other Grinnell students get involved in the conversation and don't let Biden off the hook when he tries to say that what needs to happen can't be done quickly.
*******
Wednesday, October 23, 2019
West Point
Bird Dogs: Kathy Byrnes, Ed Fallon
*******
Tuesday, August 20, 2019
Urbandale
Bird Dogs: Shaun Ahern, Kathy Byrnes, Channing Dutton, Ed Fallon, Sheila Knoploh-Odole, Samantha Kuhn
Joe Biden's event at the Living History Museum ended with our Bold Iowa bird dogs asking him a variety of questions regarding the climate crisis, DAPL and whether he would participate in a climate debate.
*******
Wednesday, August 20, 2019
Prole
Bird Dogs: Margaret Vernon, Kari Noble, Ed Woolsey
Margaret writes: "Biden didn't take any questions from the audience at large, but a lot of us spoke with him later. I asked if he'd speak out against pipelines and he said he has been against them from the beginning and that they are awful."
*******
Thursday, August 8, 2019
Des Moines
Asian & Latino Coalition
Bird Dogs: Kathy Byrnes, Ed Fallon, Sam Kuhn, Anmol Pakhale
*******
Thursday, August 8, 2019
Des Moines
Iowa State Fair
Bird Dogs: Ed Fallon, Shari Hrdina
Shari reports: We were able to talk with Joe Biden briefly (video 1) 20 minutes before he talked at the Register's Soapbox. Biden then talked close to three minutes about climate during his stump speech (video 2). Later that day on Iowa Public Radio, they did a recap of today's soapbox, and played a clip of Biden talking about climate and Iowa's wind energy. Here is a report on IPR.
*******
Tuesday, June 11, 2019
Davenport
Bird Dog: Michael Wilcox
*******
Wednesday, May 1, 2019
Des Moines
Bird Dogs: Kathy Byrnes, Tory Church, Parker Creech, Randall Damon, Ed Fallon, Lysa Fisk, Lora Fraracci, Sheila Knoploh-Odole, Samantha Kuhn, Matthew Peirce, Todd Steichen, Russ Ver Ploeg
At his first three stops — Cedar Rapids, Dubuque, and Iowa City — Biden barely mentioned climate change. "He made some basic statement about climate, but it wasn't anything like we'd want to hear," said Christine Lehman-Engledow, who attended Biden's rally in Cedar Rapids.
In Iowa City, Diane Lahr reports, "There was some room to grow on Biden's environmental platform. He mentioned renewable energy, but I'm hoping he will really address it in the future."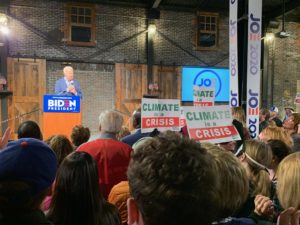 At Biden's Des Moines rally, twelve Climate Bird Dogs came primed for action. Six dressed as penguins, others held "Climate is a Crisis" signs or shot photos and video.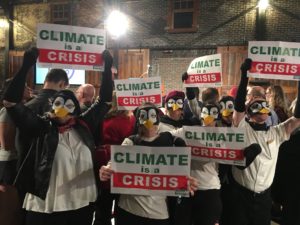 One of the penguins, Sheila Knoploh-Odole, said, "We're dressed as penguins in solidarity with the second largest emperor penguin colony in Antarctica that just collapsed due to climate change. Candidates for president need to make fighting climate change their top priority, because if we don't achieve a 45% reduction in emissions by 2030 and 100% carbon neutrality by 2050, nothing else will matter."
The results of our action? Biden talked longer about climate change in Des Moines than he did at the other three Iowa stops combined!
More significantly, our action was picked up by The New York Times, The Wall Street Journal, ABC Politics (check out the 51:00 mark), Courthouse News, local ABC News, Circa, VICE, Redacted Tonight, and more.