Tuesday, June 11, 2019
Davenport
Bird Dog: Michael Wilcox
*******
Wednesday, May 1, 2019
Des Moines
Bird Dogs: Kathy Byrnes, Tory Church, Parker Creech, Randall Damon, Ed Fallon, Lysa Fisk, Lora Fraracci, Sheila Knoploh-Odole, Samantha Kuhn, Matthew Peirce, Todd Steichen, Russ Ver Ploeg
At his first three stops — Cedar Rapids, Dubuque, and Iowa City — Biden barely mentioned climate change. "He made some basic statement about climate, but it wasn't anything like we'd want to hear," said Christine Lehman-Engledow, who attended Biden's rally in Cedar Rapids.
In Iowa City, Diane Lahr reports, "There was some room to grow on Biden's environmental platform. He mentioned renewable energy, but I'm hoping he will really address it in the future."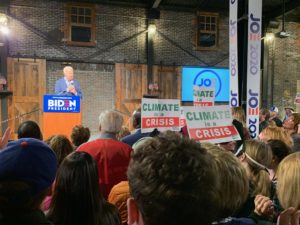 At Biden's Des Moines rally, twelve Climate Bird Dogs came primed for action. Six dressed as penguins, others held "Climate is a Crisis" signs or shot photos and video.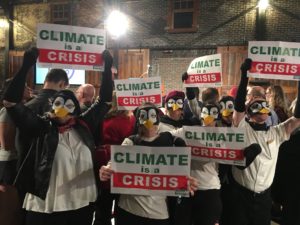 One of the penguins, Sheila Knoploh-Odole, said, "We're dressed as penguins in solidarity with the second largest emperor penguin colony in Antarctica that just collapsed due to climate change. Candidates for president need to make fighting climate change their top priority, because if we don't achieve a 45% reduction in emissions by 2030 and 100% carbon neutrality by 2050, nothing else will matter."
The results of our action? Biden talked longer about climate change in Des Moines than he did at the other three Iowa stops combined!
More significantly, our action was picked up by The New York Times, The Wall Street Journal, ABC Politics (check out the 51:00 mark), Courthouse News, local ABC News, Circa, VICE, Redacted Tonight, and more.