CLICK HERE TO JOIN OUR TEAM OF CLIMATE BIRD DOGS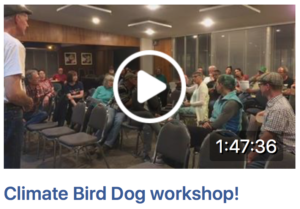 CLICK HERE TO VIEW LIVESTREAM FROM THE APRIL 25 WORKSHOP
In partnership with Indigenous Iowa, Seeding Sovereignty, Sage Sisters, and other grassroots allies, Bold Iowa is assembling a corps of 250 volunteers to persistently and relentlessly bird-dog presidential candidates on the climate crisis.
We ask candidates to:
— Make the climate crisis their top priority;
— Support the Green New Deal;
— Oppose oil pipelines, fracking, and other fossil-fuel projects;
— Stand with Indigenous communities to defend sovereignty, land, and water;
— Oppose the abuse of eminent domain to take farmland for private gain.
Because of the Iowa Caucuses, Iowans are uniquely situated to advance the national debate on the climate crisis. We have both the opportunity and an obligation to compel candidates (and the media) to prioritize the climate crisis. We're chronicling our efforts here and letting voters across the country know what candidates are saying about climate and where they stand.
Let's continue to ramp this up! Here are some of our interactions and results:
Ex-candidates:
Join us now! We'll provide training, support, data, materials, and other volunteers to work with you. Our first Climate Bird Dog Workshop was Thursday, April 25. View the video.
Your efforts are making a difference! Thank you!