Sunday, January 5th, 2020
Des Moines
Bird Dogs: Kathy Byrnes
Anyone who has been to Bernie Sanders's events know how hard it is to talk to the man one-on-one—he is constantly surrounded by press, staffers, Bernie fans and everyone else in this state it seems. One of our Climate Bird Dogs was almost run down by the press twice during the Iowa State Fair in an attempt to get a word with Bernie, likening it to running with the bulls in Pamplona! But lo and behold, here he is with Kathy Byrnes, in front of her Birds and Bees Urban Farm! Bernie was just walking down the street, passing by the farm/Bold Iowa/Ed and Kathy's, when she managed to get him to stop and say hello: "Only in Iowa does this happen out of the blue. When Bernie Sanders's staffer, who took the photo put her coffee down, I had to tell her, 'You just set your cup in horse manure.'" Only in Iowa, indeed! #IACaucus2020 #urbanfarm #climatecrisis
*******
Saturday, November 9, 2019
Des Moines
Bird Dogs: Shaun Ahern, Kathy Byrnes, Ed Fallon, Lysa Fysk, Todd Steichen
Bold Iowa bird dogs, Ed Fallon and Kathy Byrnes, were interviewed by Isabella Murray of the Iowa Starting Line who was asking their opinion of whether or not Bernie Sanders can rightly be called the new "Climate Candidate." Read their thoughts on the subject and those of other Iowans by clicking the following link: https://iowastartingline.com/2019/11/09/aoc-boosts-sanders-claim-to-climate-candidate-title-in-iowa/?fbclid=IwAR3ZJB1HrGSgl3I_lA_WeA_tBrwo1NcR67qRo054WTiLjmx7BjA2vnOOfSg
*******

Saturday, November 9, 2019
Des Moines
Bird Dogs: Shaun Ahern, Kathy Byrnes, Ed Fallon, Lysa Fysk, Todd Steichen
Bernie Sanders and Alexandria Oscario-Cortez hosted a Climate Summit at Drake University which resulted in a full auditorium with standing room only. Our climate bird dogs are seen here with panelist Mechelle Sky Walker, a member of the Omaha Nation and an active water protector who has been protesting the Keystone Pipeline.
Ed Fallon was also interviewed briefly right before the summit by Chris Robinson of nozyproductions. Click below to watch video:
*******
Sunday, September 8, 2019
Ames
Bird Dogs: Shaun Ahern, Kathy Byrnes, Ed Fallon, Lisa Kinney
Bernie Sanders spoke at Iowa State University to about 500 people. We stood right in front of him and displayed our "Climate is a Crisis" signs at appropriate moments throughout his speech. Afterward, Ed spoke with him about the proposed expansion of the Dakota Access Pipeline. Sanders seemed to be aware of what was happening. His reaction strongly suggests that he is opposed to the expansion.
Ed asks Bernie to speak out about the doubling of oil in the Dakota Access Pipeline, in this video taken by Kathy Byrnes.

Bernie talks climate during his remarks, in this video taken by Ed Fallon.

Our climate signs make regular appearances throughout the official video from Sanders' talk, in the video below. This video has had around 60,000 views. The climate remarks start around 22:10.
Tailgating with Bernie: Iowa State University

TAILGATING WITH BERNIE: Young people today make up the most progressive generation in history. Together we'll sweep Trump out of office and take that movement to the White House. Join us in organizing on campuses all over this country at berniesanders.com/students‬

Posted by Bernie Sanders on Sunday, September 8, 2019
*******
Sunday, August 21, 2019
Des Moines
Bird Dogs: Valerie Madison, Sam Kuhn, Shaun Ahern, Ed Fallon
The forum was focused on health care. We tried to catch Sanders afterwards to push him to come out against the expansion of the Dakota Access Pipeline, but we weren't able to catch him. Valerie, who sat in the front row with a Bold Iowa "Climate is a Crisis" sign mentioned climate as a prelude to her question about a friend with a medical emergency that the current system is failing to address.
*******
Sunday, August 11, 2019
Iowa State Fair, Des Moines
Bird Dogs: Shaun Ahern, Anmol Pakhale, Sam Kuhn, Kathy Byrnes, Ed Fallon, Shari Hrdina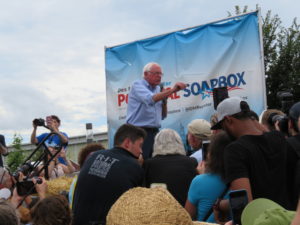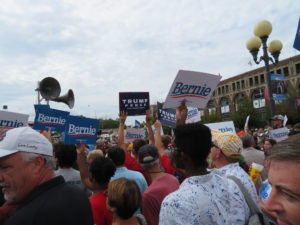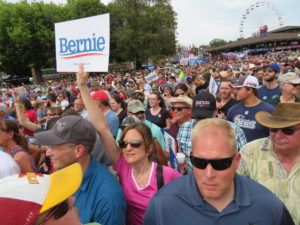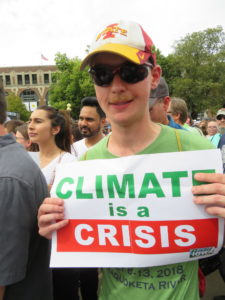 *******
Saturday, March 9, 2019
Des Moines
Bird Dogs: Kathy Byrnes, Sam Kuhn, Adrianne Erickson, Blake Erickson, Kari Noble, Todd Steichen, Jennie Erwin, Lysa Fisk, Marty Monroe, Brenda Milligan
Our squad of climate bird doggers wasn't intimidated by the Sanders campaign's decision to prohibit signs. Our message of urgency on the climate crisis is simply too important to be silenced. When Sanders began to talk climate in the middle of his speech (see video below, through the 47:46 mark), the signs came out. At one point, Sanders looked right at us and then appeared to go off script, comparing the lies spread by the fossil-fuel industry to the lies spread by big tobacco companies. At his Des Moines rally, Sanders talked about climate change for nearly twice as long as he did in Iowa City and Council Bluffs, and we suspect the presence of our signs had everything to do with it.
Sanders platform on climate change is both strong and genuine. Yet we're disappointed that climate doesn't receive top billing in his platform. The issues he addresses are important, critical even. But none of them will matter if our leaders don't prioritize the gravest existential crisis humanity has ever faced.
*******
Thursday, March 7, 2019
Council Bluffs
Bird Dog: Melanie Williams-Smotherman
After announcing his decision to run for president, Bernie Sanders held his first Iowa rally. We prepared signs reading "Be Bold on Climate" and "Climate is a Crisis." The plan was for volunteers to hold them up when Sanders spoke about climate.
We were surprised to learn that signs wouldn't be allowed. "The staff told us explicitly that no homemade signs were allowed," wrote Melanie, who also volunteers with the Sanders campaign. "The coordinator explained that it's unfortunate, but they've been burned by allowing what they thought were supportive messages, only to have those signs turned around to display damaging messages."
Ed Fallon said, "Sanders talks about the climate crisis in strong terms, and I'm happy to see that. But it's disturbing that his campaign refuses to let voters express their views and creativity with signs — even supportive signs. I understand the risk, but it's better to error on the side of the First Amendment than to stifle positive creative messaging from the grassroots."