Friday, June 28, 2019
Des Moines
Bird Dogs: Kathy Byrnes, Brian Campbell, Ed Fallon, Todd Steichen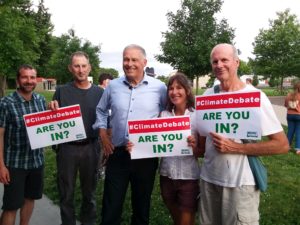 Kathy reports: "Jay Inslee enthusiastically responded 'YES' to our invitation to participate in a climate debate."
*******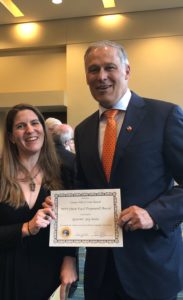 Sunday, June 9, 2019
Cedar Rapids
Hall of Fame Reception
Bird Dogs: Samantha Kuhn and Matthew Peirce
Inslee receiving his MVP award (Most Vocal Proponent) from Bold Iowa at the Hall of Fame Reception from bird-dog, Samantha Kuhn. Inslee received this award due to Climate Change being his main platform, always speaking about the issue at length during his stump speeches. He also was the candidate with the best climate policy track record.
*******
Monday, June 3, 2019
Des Moines
Bird Dogs: Samantha Kuhn and Jeannie McCrea
Bold Iowa Bird-dogger Samantha Kuhn introduces Governor Jay Inslee at his first Asian & Latino Coalition event.

*******
Wednesday, May 15, 2019
Davenport
Bird Dogs: Jo Ironshield, Regina Tsosie, Michael Wilcox
We put Jay Inslee in touch with Jo Ironshield, Regina Tsosie and Michael Wilcox to learn more about the impact of flooding on Davenport. Josie writes, "The visit went great. Insee talked a lot about getting off fossil fuels by 2030. We also talked about the Dakota Access Pipeline, the two marches, and the landowner lawsuit. And I was interviewed by CNN and The New York Times."
*******
Monday, March 4, 2019
Ames
Bird Dogs: Kathy Byrnes, Ed Fallon, Sam Kuhn, Matthew Peirce
At last — a presidential candidate who grasps the urgency of the moment! (Check out the video that kicked off Inslee's campaign.) Inslee has made climate change the central feature of his campaign, and we hope his entry into the race will help push other candidates to make the climate crisis their top priority.
During Inslee's first visit to Iowa, Sam Kuhn asked why other candidates aren't prioritizing the climate crisis. Inslee said, "We just do not have any more time." He went on to remind the audience of what happened in 2009, when President Obama focused on health care, which while important, "took up all the oxygen, and there wasn't enough left to do climate-change legislation."