FOR IMMEDIATE RELEASE
Tuesday, April 23, 9:00 a.m.
Contact: Ed Fallon at (515) 238-6404 or [email protected]
Contact: Samantha Kuhn at (847) 682-2924 or [email protected]
(Visit www.boldiowa.com/climate-bird-dogs)
Over 200 sign up for Bold Iowa's Climate Bird Dog campaign
Since January, Bold Iowa supporters have grilled candidates on climate
DES MOINES, IOWA — On Thursday, April 25 from 7:00-9:00 p.m. at the Mickle Center, 1620 Pleasant Street in Des Moines, Bold Iowa will host a Climate Bird Dog Workshop. Participants will hear from Iowans on the front lines of the climate crisis and from Climate Bird Dogs about their experience interacting with presidential candidates (details here). The bulk of the workshop will involve a series of role plays, demonstrating how bird-dogging progresses from a simple Q&A exchange to edgier, more creative tactics — and possibly into civil disobedience.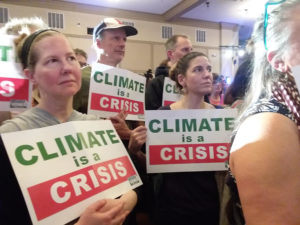 "Since January, our supporters have attended dozens of events across the state," said Bold Iowa director, Ed Fallon. "We've asked presidential candidates to make the climate crisis their top priority. So far only one, Washington Governor Jay Inslee, has done that, although US Senator Kirsten Gillibrand (D-New York) might be getting close. This week's workshop will fire-up even more caucus goers to take aggressive action. We hope to convince every presidential candidate — Democrat and Republican — to make climate change their top priority."
One of the front-line presenters to kick-off the workshop is John Davis, a long-time climate activist who lost his Hamburg home to this spring's historic flood. "This unprecedented flood in southwest Iowa was caused by humanity," said Davis. "As we continue to pour carbon into the air — causing an ever-increasing rise in temperature, particularly in the Arctic — more of these catastrophic weather events are certain."
Donnielle Wanatee of the Meskawaki Nation will also address attendees. Wanatee was one of the first Iowans to speak out against the Dakota Access Pipeline. She participated in the Climate Justice Unity March in 2017 and the First Nation – Farmer Climate Unity March in 2018, which crossed the route of DALP through Story, Boone and Webster counties.
Bold Iowa's mission is to build rural-urban coalitions to (1) fight climate change, (2) prevent the abuse of eminent domain, (3) protect Iowa's soil, air, and water, and (4) promote non-industrial renewable energy. Workshop facilitators include Bold Iowa's director, Ed Fallon, who brings thirty-two years of bird-dog experience to the conversation, and Samantha Kuhn, a Climate Bird Dog team leader.
# # #