FOR IMMEDIATE RELEASE
Sunday, April 28, 7:00 p.m. CT
Contact: Sid Barfoot at (507) 832-9330 or [email protected]
Contact: Kathy Byrnes at (515) 491-8468 or [email protected]
Bold Iowa Climate Penguins Confront Andrew Yang on Global Crisis
Iowa climate activists take bird-dog campaign to a new level of engagement
DES MOINES, IOWA — Dressed as penguins, Bold Iowa members staged an action at Andrew Yang's campaign event in Des Moines today, calling Mr. Yang out for remarks he has made on climate change, and challenging him to prioritize the climate crisis. Six activists dressed as penguins were supported by other Bold Iowa members throughout the audience, two holding a large banner reading "LET THE PENGUINS SPEAK!" Today's action marked an escalation in Bold Iowa's Climate Bird Dog campaign to convince presidential candidates to make the climate crisis their top priority.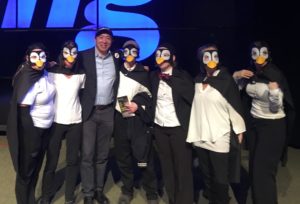 Why penguins? Sid Barfoot explains in her question to Mr. Yang: "In the past when asked about climate change, you've said that the attitude of people who are struggling financially is that the penguins can wait in line. Full disclosure, I'm not a penguin. I'm a person with financial struggles dressed as a penguin. Those of us at the bottom, we're the least responsible for carbon emissions — yet we're the most vulnerable to the consequences of a changing climate. Sure, we penguins would love an extra $1,000 per month. But we just found out that the second largest penguin colony in Antarctica collapsed due to ice melt. Meanwhile, 150,000 people were displaced last year by the deadliest wildfire ever in California, and just this year, thousands were displaced by the unprecedented flooding in the Midwest. Neither people nor penguins have time to wait in line while our next president spends political capital on anything like universal basic income. Our question is, will you adjust your campaign's focus and make averting climate catastrophe your number-one priority, so that both people and penguins win?"
Over 200 Iowans have signed up as Bold Iowa Climate Bird Dogs. Since January, 80 have attended one or more presidential candidate events, pushing candidates to make the climate crisis their top priority. "So far, we've mostly asked candidates questions and held signs," said Kathy Byrnes, who with Barfoot was instrumental in planning today's action. "The Democratic candidates I've met are bright people. Yet with the exception of Governor Jay Inslee, they're all treating climate like it's just another issue. It's not an issue. It's a crisis, and candidates need to address it as such. We plan to continue ramping up our actions to make that happen."
Bold Iowa's mission is to build rural-urban coalitions to (1) fight climate change, (2) prevent the abuse of eminent domain, (3) protect Iowa's soil, air, and water, and (4) promote non-industrial renewable energy. The organization was launched in 2015 to fight the Dakota Access Pipeline.
# # #