Dear Friends,
Honestly, saving the world shouldn't be this much fun. At Bold Iowa's Climate Bird Dog Workshop (April 25, 7:00-9:00 pm at the Mickle Center, 1620 Pleasant Street in Des Moines), you'll not only learn a lot but the role plays we're preparing will be creative and, well, a blast. Sign up today as we're limiting the workshop to 100 people.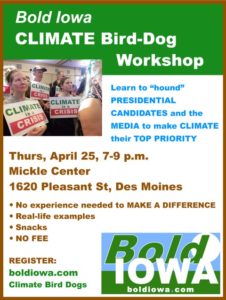 Whether you've bird-dogged before or are a newbie, this two-hour workshop will give you the tools you need to effectively agitate for climate action at presidential candidate events in your community and across the state.
We'll hear from experts and front-line leaders about why it's urgent that presidential candidates (and the media!) make the climate crisis their top priority.
We'll hear from Bold bird doggers about their experience interacting with candidates so far.
We'll spend half our time going through a series of role plays, demonstrating how bird-dogging progresses from a simple Q&A exchange to edgier, more creative tactics.
Presenters at the workshop include:
— Bold Iowa director, Ed Fallon, who brings thirty-two years of bird-dog experience to the conversation.
— John Davis, a long-time climate activist who lost his Hamburg home to the historic flood that continues to impact SW Iowa.
— Donnielle Wanatee, a Meskwaki leader who's been on the front lines of the fight against the Dakota Access Pipeline.
— Samantha Kuhn, a Bold Iowa Climate Bird Dog team leader, helping to organize candidate actions.
For more information about what our squad of climate bird dogs have accomplished so far, visit www.boldiowa.com/climate-bird-dogs. Thank you, and hope to see you on the 25th. Again, sign up right away!
The Bold Iowa Team