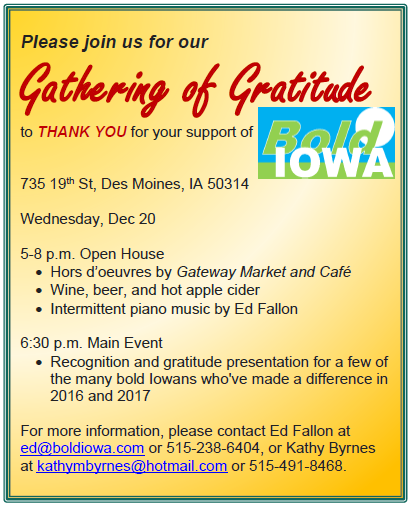 You're invited! We're hosting an informal gathering of gratitude to thank all who've been active in the work of Bold Iowa this year. We also want to thank the many people who've worked with Ed, Maddie and Forrest to make the Fallon Forum a successful alternative to shock-jock radio.
We'll have hors d'oeuvres catered by Gateway Market and Cafe, beverages, and some music.
At 6:30, we'll have a short presentation to thank a few of the many bold Iowans who've made a difference in 2016 and 2017. For fun, we might even offer a few "door" prizes . . . and yeah, there's a reason "door" is in quotes. But you'll have to come to find out why.
Please join us!