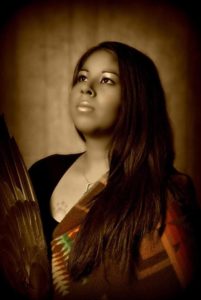 Donate to Trisha here.
Why I'm marching: I march for Indigenous rights, landowner rights, and clean water for my children. They and other children deserve clean water and a healthy way of living.
About me: I'm a member of the Hochunk Nation of Nebraska. I live in Cedar Falls and am majoring in psychology and minoring in mental health at UNI. My experience at Standing Rock was eye opening. My time there woke me up to the importance of fighting to protect Mother Earth. I had never done anything like that in my life and was pregnant at the time. If I'd not gone to Standing Rock I'm not sure where I'd be today.
Follow me on the March:
Facebook Women's Indigenous Media
Days Marching: September 1-2, 3 and 8
Goal ($20 per day): $80
Amount donated: $45
Liz Oppenheimer – $25
Mary Bennett – $20