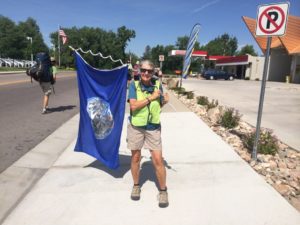 Donate to Miriam here.
Why I'm marching: I'm marching because the nations of the world, except this one, agree that we need to keep fossil fuels in the ground. I'm also marching because of the illegal use of eminent domain to build the Dakota Access Pipeline. Oil may be flowing through Iowa, but it ain't over 'til it's over, and you don't lose 'til you quit. We're not quitting. At age 75, I can march, so I must.
About me: After I retired as a psychotherapist at age 62, I joined the Peace Corps and went to Namibia to help orphans and vulnerable children in a remote community on the edge of the Kalahari Desert. Afterward, as I became more concerned about climate crisis, I signed up for the Great March for Climate Action. I walked 3,000 miles, sounding the alarm about climate change, and the experience radicalized me. I found a community of fellow travelers who are urgently concerned about the future of our planet, and have been an activist ever since. I've continued my work by fighting DAPL in Iowa with 100 Grannies for a Livable Future, a group that's also working to stop the proliferation of CAFOs.
Follow me on the March: Contact me via email at [email protected].
Days Marching: September 1-8
Goal ($20 per day): $160
Amount donated: $260
Mark Edwards – $50
Carmin Hunter-Siegert –  $20
Caryl Lyons – $40
Yon – $100
Miriam – $50