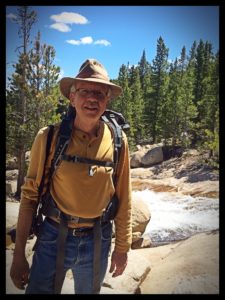 Why I'm marching:  Climate change is the salient issue of our time. Empirically, it is self-evident as records are being shattered all around the globe for record high temperatures and record-high low temperatures. There are acute water shortages in numerous locations, including India, Cape Town South Africa, Mexico, Brazil, and in parts of the United States. We now have raging forest fires almost year-round in the western United States, and extreme weather events have increased in frequency and intensity as well.
About me: As a lifetime member of the Sierra Club I have developed a strong passion for protecting our environment. When you travel to places like the Grand Canyon, the Boundary Waters, and Swiss Alps you come to realize the beauty of our planet and of the wildlife that shares it with us. This in turn only intensifies my desire to protect such places from the ill effects of climate change. We need to realize we are part of the interdependent web of all existence and that all life needs clean air, water, and a habitable planet in order to live and thrive. The Bakken fossil fuel pipeline running through Iowa, which really does not benefit Iowans, runs counter to these beliefs. When the pipeline leaks it will further erode our land and water.
I have lived in the Quad Cities for almost 40 years. I am currently serving on the Executive Committee of the Sierra Club, Eagle View Group in the Quad Cities and on the Sierra Club's Iowa Chapter as well. In 2015 I attended Al Gore's Climate Reality Leadership Corps training in Cedar Rapids. I have used materials from the Climate Reality Project to provide information and to give presentations on the climate crisis.
Follow me on the March: I will probably be posting some pictures and written words either on Facebook or on the Eagle View Groups blog on WordPress.
Days Marching: September 1-8
Goal ($20 per day): $160
Amount donated: $160
Eagle View Group of the Sierra Club – $140
Mike Wilcox – $20