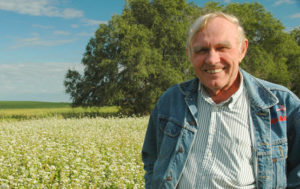 Donate to Fred here.
Why I'm marching: I'm joining this march because I believe we all need to make our voices heard to support the kind of changes that our planet needs, and choosing "voices" that we believe can make a difference. I have decided that joining with others who feel sufficiently compelled to speak out to commit to a long walk together, where others can see us, and therefore perhaps begin to realize how important it is to us and our grandchildren to speak out about taking care of land.
About me: I grew up on a farm in North Dakota under the tutelage of a father who developed a passion, as a result of the dust bowl in the 1930s, about how important it was to "take care of land." He instilled that value in me, so it has also become a passion of mine. During my life-time its importance has only increased in me.
Follow me on the March:
Days Marching: September 1-4
Goal ($20 per day): $80
Amount donated: $50
Joan Fumetti – $50