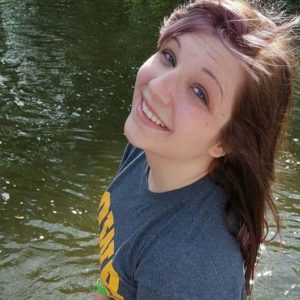 Donate to Emma here.
Why I'm marching: I'm marching because our future depends on us winning the fight against climate chaos. If not now, when!
About me: I've got few talents but sure know how to run my mouth. I use this skill to speak up against injustice, to give a voice to individuals with developmental disabilities I've worked with over the past six years, and to whine about pretty much everything. I'm mother to 4-year-old Lillian Grace. We both love a good protest and will never turn down cheesecake. I'm currently enrolled at Iowa State University, working on a Bachelor's of Liberal Studies. It's unlikely this degree will ever be useful, but at least my father isn't yelling at me for wasting my potential. When not working, mothering, volunteering, or learning, I like napping and, yeah, napping, that's pretty much it.
Follow me on the March:
Facebook Emma Schmit
Days Marching: September 4-8
Goal ($20 per day): $100
Amount donated: