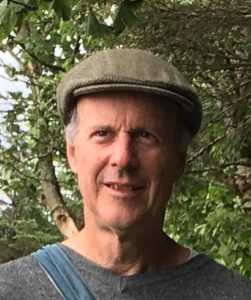 Donate to Ed here.
Why I'm marching: A quote from Bill McKibben sums it up: "Very few people on earth ever get to say: 'I am doing, right now, the most important thing I could possibly be doing.' If you'll join this fight that's what you'll get to say."
The lawsuit filed by landowners and the Iowa Sierra Club against the misuse of eminent domain should be big news across Iowa. I march to raise awareness about this lawsuit and the climate crisis, and about the need to build bridges between constituencies that often don't connect.
About me: Less than a hundred years ago, my relatives came here from Ireland. My ties to Ireland and my family there remain strong. In 2000, I orchestrated the planting of an oak forest on my great-grandfather's land in County Roscommon.
At my home in Des Moines, I contribute to a sustainable world by walking and biking as my primary means of transportation. My partner, Kathy Byrnes, and I grow much of our own food on our small but diverse urban farm, including laying hens and bees.
In terms of public service, I served as a state legislator for fourteen years before running for Governor in 2006 and U.S. Congress in 2008. Since 2009, I've hosted the Fallon Forum, a talk show which digs into subjects the mainstream media wants to ignore. Since 2016, I've directed Bold Iowa.
Follow me on the March:
Blog Fallon Forum
Talk show The Fallon Forum airs Mondays from 11:00 a.m.-Noon and is available afterward as a podcast.
Facebook Ed Fallon, Fallon Forum
Days Marching: September 1-8
Goal ($20 per day): $160
Amount donated: $180
Ed Fallon – $40
Shirley Fallon – $40
Fionna Fallon – $40
Jay Wilson – $20
Ben Fallon – $40