Dear Friends,
Saturday's Climate Crisis Parade — challenging the media to cover climate — just keeps getting bigger. There are now seventy co-sponsors, and we're expecting around a thousand participants! Indigenous communities will lead the parade, pulling a covered wagon symbolizing colonialism as one of the root causes of the climate crisis.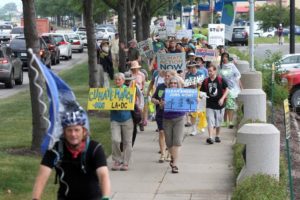 Other parade entries include:
— A 5-foot diameter globe marked with places already impacted by climate change;
— Animals threatened with extinction, including a waddle of penguins, a polar bear, and (for fun) a Big Foot (if we can find him);
— Two groups carrying displays featuring the Dakota Access Pipeline and the Keystone Pipeline;
— A mobile eco-performance by an ISU theatre troupe;
— Church groups carrying flags, posters, and signs.
The Parade is a colorful and creative way to call attention to the deeply serious, existential threat of climate change. Please join us. Register to attend on Facebook or at Eventbrite.
One more thing: Send your local media contacts the following press release. Thanks, and hope to see you Saturday!
The Bold Team
*******
FOR IMMEDIATE RELEASE
Monday, January 28, 2020 — 11:00 a.m. CT
Contact: Kathy Byrnes, Bold Iowa, 515-491-8468
Contact: Jonas Magram, Climate Crisis Parade Coalition, 641-919-5464
Record Number of Organizations to Participate in Des Moines Climate Action
Over 1,000 Expected to Call Upon the Press to Step Up Coverage of Climate Crisis
Seventy organizational sponsors will participate in the Climate Crisis Parade this Saturday, February 1, at 12:00 noon in Des Moines, Iowa, meeting at Cowles Commons at 4th and Locust and parading to the Iowa Events Center. This is a record number of sponsors for any Iowa action, at least since Iowans marched in solidarity with Martin Luther King, Jr. and the civil rights movement more than 50 years ago. Over 1,000 participants are expected.
In addition to raising public awareness of the rapidly emerging climate crisis, the parade's "We challenge YOU!…" message will be directed at the hundreds of members of the world's press assembled in Des Moines to cover next Monday's caucuses.
Kathy Byrnes, one the event's organizers, explains, "The press does a good job covering the consequences of climate change – increasingly catastrophic floods, droughts, fires, etc. – but too often fails to emphasize the scientifically established fact that these disasters are either directly caused or exacerbated by human-induced climate change."
According to Byrnes, the public deserves the whole story. "Just as the media had a responsibility to tell the world that skyrocketing lung cancer rates were being caused by smoking, it has a duty to tell the world that climate change, caused by human activity, is driving these deadly and financially devastating events. This is the central purpose of our parade."
Parade participants will gather at noon at the northwest corner of Cowles Commons in Des Moines. Individuals and organizations interested in participating in the Climate Crisis Parade may visit the Facebook event via #ClimateCrisisParade, RSVP on Eventbrite, or call 858-356-2724.
Organizational members of the coalition as of today are:
100 Grannies for a Livable Future, Ames Climate Action Team, Ames United Church of Christ, Bold Iowa, Boundary Waters Action Fund, Care of Creation Group (Cathedral Church of St. Paul), Catholic Peace Ministry, Central College SCATE (Students Concerned About The Environment), Central District United Methodist Women, Citizens' Climate Lobby (Des Moines), Citizens' Climate Lobby (Iowa City), Citizens' Climate Lobby (Mason City), Climate Action Iowa, Climate March, Climate Reality Project (Des Moines Chapter), Creative Visions, Des Moines Faith Committee for Peace, Des Moines Intentional Eucharistic Community (Social Justice Committee), Des Moines Order of the Sacred Earth, Des Moines Valley Friends (Quaker), Downtown Disciples, Drake Environmental Action League, Environment Iowa, Farmers & Ranchers for a Green New Deal, First Unitarian Church of Des Moines, Green Boat Team (Urbandale UCC), Greenpeace, Homes 4 My Peeps, Indianola Green Team, Indigenous Iowa, Interfaith Green Coalition, Iowa Climate Strike, Iowa Interfaith Power and Light, ISU Theatre – Eco-Theatre Lab, Latinx Immigrants of Iowa, League of United Latin American Citizens (Council 307), League of Women Voters (Ames), LENA Project, Methodist Federation for Social Action (Iowa Chapter), Millennials for Climate, Moms Clean Air Force, NAACP (Des Moines), National Wildlife Federation, NextGen Iowa, Occupy the World Food Prize, Organic Consumers Association, Our Lady's Immaculate Heart Catholic Church of Ankeny, Oxfam, Physicians for Social Responsibility (Iowa), Physicians for Social Responsibility (US), Plymouth Church Creation Care and Justice Coalition, Progressive Action for the Common Good's Environmental Forum, Regeneration International, Sage Sisters, Seeding Sovereignty, Simpson College, STAR*PAC, Student Climate Strike (Iowa City), Sunrise Movement, Swap Society, The Collective, Unitarian Universalist Congregation of the Quad Cities, Unitarian Universalist Society of Iowa City, United Methodist Trinity Las Americas – the Earth Guardians, University of Iowa Environmental Coalition, Urban Ambassadors, VegLife, Vote Mob, Voto Latino, Women's International League for Peace and Freedom (Des Moines Branch)
– End –