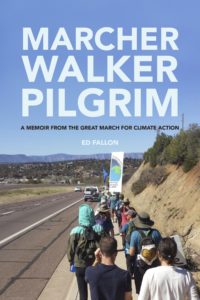 Sunday, December 2, 2018
2:00-4:00 p.m.
500 E Locust St (third floor)
Des Moines, IA 50309
Join us at the official launch party for Marcher, Walker, Pilgrim — Ed's memoir from the 2014 Great March for Climate Action. Ed will talk about the book, read selections, and take questions. Hardcover and paperback books will be available for purchase and for Ed to sign. You may prepurchase here. All proceeds go to Climate March, a 501(c)(3) nonprofit organization.
On the 3,100-mile, 8-month walk from LA to DC in 2014, dozens of marchers became a mobile village — weathering harsh conditions, sharing joys and sorrows, and intensifying their commitment to the cause as they sounded the alarm about the climate crisis.
Through humor and candid introspection, Ed shares his experience on the March and how it brought into focus his lifelong search for love and meaning — even as intense, interpersonal dramas threatened to tear the March community apart.
We'll have beverages and light homemade snacks to share. Thanks to Downtown Disciples for providing the space.
Click here to view the Facebook event.