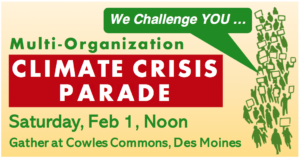 When forty organizations come together to take collective climate action, what happens? The Climate Crisis Parade! This multi-faceted action is scheduled for 12:00 noon on Saturday, February 1st — the Saturday before the Iowa Caucuses. If you're associated with an organization, church, student group, etc, and would like to be involved, please email the Steering Committee at [email protected].
Here's the press release that went out this week announcing the Climate Crisis Parade, and here's a link to the Facebook event. Get it on your calendar and join what promises to be a powerful statement about the urgency of the climate crisis.
FOR IMMEDIATE RELEASE
Contact: Samantha Kuhn at 847-682-2924
Contact: Steve Shivvers at 515-468-3923
Coalition plans major climate action before Iowa Caucuses
Des Moines, Iowa – December 17, 2019 – A coalition of 40 environmental, civic, justice, and faith groups is organizing a Climate Crisis Parade two days before the Iowa Caucuses, challenging voters and the media to act with urgency on behalf of our climate. This event marks the first time these local, state, and national groups have worked together to spotlight the urgent need for all to act on climate.
The Climate Crisis Parade is scheduled for Saturday, February 1 at 12:00 noon CT. Participants will gather at Cowles Commons, 221 Walnut Street, in Des Moines and parade to the Iowa Events Center, where media from around the world will assemble to report on the Iowa Caucuses. The action is non-partisan and not organized in support of any presidential candidate.
"Our core message is 'We Challenge You!'" said Steve Shivvers, a member of the local chapter of Citizens' Climate Lobby, who serves on the coalition's steering committee. "Participating groups will walk with signs and feature 'parade floats,' calling out the climate impacts of greatest concern to their constituencies."
One organization is planning a parade float that warns of the increasing number of extinct or endangered species affected by climate change. Others will call attention to this year's historic flooding along the Missouri River, concerns about the Dakota Access pipeline, and the health impacts of climate change.
"Individuals and organizations interested in the Climate Crisis Parade should visit the coalition's Facebook event or RSVP on Eventbrite," said Kelcie Kraft of Urban Ambassadors. "When we work together, we can accomplish so much more, as was evidenced by the Facebook event launch last week. In just four days, our event garnered over 1,000 people indicating they were 'going' or 'interested!'"
Organizational members of the coalition are 100 Grannies for a Livable Future, Ames Climate Action Team, Bold Iowa, Catholic Peace Ministry, Central College SCATE (Students Concerned About The Environment), Central District United Methodist Women, Citizens' Climate Lobby (Des Moines), Citizens' Climate Lobby (Iowa City), Citizens' Climate Lobby (Mason City), Climate Action Iowa, Climate March, Climate Reality Project (Des Moines Chapter), Creative Visions, Des Moines Order of the Sacred Earth, Des Moines Valley Friends (Quaker), Environment Iowa, Homes 4 My Peeps, Indianola Green Team, Indigenous Iowa, Interfaith Green Coalition, Iowa Climate Strike, Iowa Interfaith Power and Light, League of United Latin American Citizens (Council 307), Methodist Federation for Social Action, Millennials for Climate, Moms Clean Air Force, NAACP (Des Moines), National Wildlife Federation, Physicians for Social Responsibility (Iowa), Physicians for Social Responsibility (US), Plymouth Church Creation Care and Justice Coalition, Sage Sisters of Solidarity, Seeding Sovereignty, STAR*PAC, Student Climate Strike (Iowa City), University of Iowa Environmental Coalition, Urban Ambassadors, Women's International League for Peace and Freedom (Des Moines Branch).
###