We Are Iowa TV Channel 5: Our 'Climate is a Crisis' signs were shown on the local news.

*******
Link to original article: https://www.weareiowa.com/news/local-news/former-vp-joe-biden-visits-des-moines-on-presidential-campaign/1972008713
By Angelina Salcedo, We Are Iowa TV Channel 5, Des Moines, Iowa, May 1, 2019
Excerpt: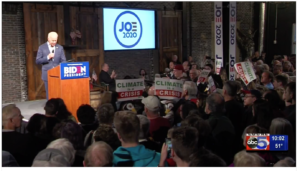 DES MOINES – Former Vice President Joe Biden announced last week he's running for president. He's now the 20 Democrat to enter the race and he's now touring Iowa. His Des Moines campaign stop at the River Center downtown got started a little after six tonight.
Hundreds came out to the River Center to hear the former vice president speak, hoping that they would hear a lot of fight in him. To know and feel confident that they can vote for him. The main take away from this speech is that Democrats have to win this next election.
Democratic voters in Iowa still not sure if they'll be voting for the former vice president, but are hopeful his credentials will propel him through election season.