Dear Friends,
"[T]he United States right now has among the cleanest climates there are based on all statistics. … I believe there's a change in weather, and I think it changes both ways. Don't forget, it used to be called global warming, that wasn't working, then it was called climate change." (from The Guardian)
That's President Trump, enlightening the British with his profound scientific knowledge. Sadly, it's impossible not to be embarrassed by his blathering. And just in case you're inclined to believe that the US has a "clean climate" or that weather and climate are synonymous, here's CNN's fact-check of Trump's comments.
During  the President's visit to England last week, Prince Charles spent a long time trying to educate the Denier in Chief about climate change. I'd like to believe that the Prince's counseling session had at least a little positive impact. Let's presume, for the sake of our future, that the Prince made a dent in the President's shield of denial.
Since there is no time to waste, Iowans must pick up where Prince Charles left off. President Trump is attending a fundraiser at the Hy-Vee Pearson Center in West Des Moines this Tuesday evening. Climate warriors need to be on hand to welcome him and continue the Intro to Climate 101 course that the Prince initiated.
Interested? Let me know. As details firm up, I'll keep you posted.
*******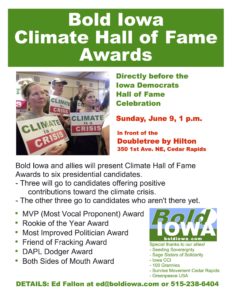 It's another big weekend for climate activism in Iowa. Several Democratic presidential candidates will be at the Downtown Des Moines Farmers Market Saturday morning. Eight are also making an appearance at Des Moines' Pride Fest that day. On Sunday, nineteen presidential candidates will speak at the IDP Hall of Fame Celebration in Cedar Rapids. Bold Iowa will be on hand to present Climate Hall of Fame Awards to six candidates at 1:00 in front of the event venue at 350 1st Ave NE.
Thanks to our partners in this effort:
Sage Sisters of Solidarity
Seeding Sovereignty
Iowa CCI
Sunrise Movement Cedar Rapids
100 Grannies
Greenpeace USA
Bold Iowa is honored to lend its support to several important upcoming climate events, including the Science Festival Trail on June 9, Senator Rob Hogg's climate forums with Governor Jay Inslee on June 9 and Marianne Williamson on June 10, and the Iowa Water Festival on June 23.
We're stronger when we work together. On a lighter note, pulling a clip from Monty Python's Life of Brian, let's make sure we never let this happen to our movement:
Onward, together! – Ed