Dear Friends,
In terms of Iowa climate action, a whole lot is barreling down the pike. First up is the CNN Climate Crisis Town Hall scheduled for Wednesday, September 4 from 4:00 – 11:00 p.m. central time. Yeah, I know. Seven hours. Ouch!
For those with the stomach (and backside) to persevere through the entire town hall, it should be worth the effort. This is the most in-depth exploration of ten of the Democratic presidential candidates' positions on climate yet.
While it's not the climate debate so many of us have been fighting for, let's hope CNN poses challenging questions. Here's the line-up (and it's unfortunate that some excellent candidates have been excluded):
4:00 Julian Castro
4:40 Andrew Yang
5:20 Kamala Harris
6:00 Amy Klobuchar
7:00 Joe Biden
7:40 Bernie Sanders
8:20 Elizabeth Warren
9:00 Pete Buttigieg
9:40 Beto O'Rourke
10:20 Cory Booker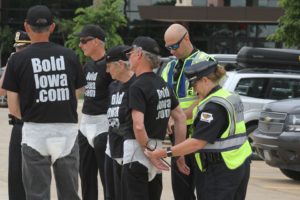 CLIMATE JUSTIFICATION TRIAL. The Climate Defenders Five were scheduled to appear before a district judge on Thursday, September 5 for protesting at the GOP/Trump fundraiser earlier this summer. That date just got changed to October 10, same time, same place. Be sure to check with us to make sure the date doesn't change again.
On October 10, we'll hold a press conference at 1:30 outside the Polk County Justice Center, (222 5th Ave, Des Moines, 50309). The trial is scheduled for 2:00. We'd love to have you join us, and we're hopeful that the judge will understand the justification of our civil disobedience based on the growing urgency of the climate crisis.
BIRD-DOG OPPORTUNITIES. Just when you think there might be a lull in presidential candidate events across Iowa, the candidates prove us wrong. Check out the Des Moines Register's Candidate Tracker, daily if possible, as new events are constantly being added. Bold Iowa's questioning of candidates on climate concerns varies, depending on the candidate's record and past statements. In August, we focused on asking candidates to speak out in opposition to the proposed expansion of the Dakota Access Pipeline. That focus will continue in September, and we'll also push candidates on other related concerns.
IOWA CLIMATE STRIKE. Events are scheduled across Iowa in conjunction with this global week of action. Building on the impact of the student-led School Strikes for Climate, people from all walks of life are encouraged to join millions of people around the world who "will walk out of our workplaces and homes to join youth climate strikers on the streets and demand an end to the age of fossil fuels, corporate pollution, and environmental destruction." In Des Moines, participants will gather at the Iowa State Capitol on September 20 from 10:00 – 2:00.
POLK COUNTY STEAK FRY. This will be an excellent opportunity to talk with fourteen presidential candidates all in one location. The Steak Fry is Saturday, September 21, and begins at 12:00 noon at Waterworks Park in Des Moines. Let me know if you're interested in hooking up with a Bold Iowa contingent to make sure candidates and attendees hear the message that climate change is urgent and must be our top priority. And we want to make sure they understand how important it is to Iowa Democratic caucus goers that the Dakota Access Pipeline not be expanded!
Onward! – Ed Fallon