Dear Friends,
Over the past three days, we've marched from Des Moines to Ames — slogging through thirty-two miles of the wettest, stormiest September the Iowans on the March have ever witnessed. It's been an intense experience. Yet our unity of purpose in this historic fight keeps us going.
Beyond the weather, another challenge is that we still need to raise thousands of dollars to finance this March! Thank you to all who've donated. If you haven't, please take a few minutes to help. Click here to donate. We need you!
There is so much to talk about, so many stories and images to share. Regrettably, I haven't had time to write a daily blog. But our March community is rich with writers, photographers, and videographers.
Here's live stream from our press conference at the Iowa Utilities Board at the start of the March on Saturday. (Christine Nobiss)
Seeding Sovereignty, Bold Iowa, Indigenous Iowa, and the Sierra Club are at a press conference kicking off the 8-day, 90-mile First Nation – Farmer Climate Unity March! At the press conference, speakers outline the importance of unity among Native, farmer, and urban communities as the Iowa Supreme Court prepares to hear oral arguments in an important lawsuit on Wednesday, September 12 at 9:00 a.m.The lawsuit was filed by landowners whose property was taken by eminent domain for the Dakota Access Pipeline. Landowners allege that the Iowa Utilities Board (IUB) wrongly allowed Energy Transfer Partners (ETP) to use eminent domain to build the Dakota Access Pipeline because the pipeline doesn't promote public convenience and necessity. The IUB gave no consideration to the need or benefit for the service from the pipeline. It simply based the permit on the creation of temporary construction jobs and the alleged safety of pipelines over rail shipments.The case is strong and has potentially historic significance!To raise awareness of the importance of the lawsuit, Seeding Sovereinty is partnering with Bold Iowa and Indigenous Iowa, Sierra Club Iowa Chapter, and other organizations on the First Nation – Farmer Climate Unity March. Marchers will set out from the IUB's headquarters in Des Moines on Saturday, September 1. They'll follow the general route of the pipeline through Story, Boone and Webster counties and arrive in Fort Dodge on September 8 for an action at the conclusion of the March.

Posted by Seeding Sovereignty on Saturday, September 1, 2018
We're grateful for the hospitality of the Griffieon family at the end of our first day's march. Because of severe weather and torrential rain, many marchers chose to sleep inside the farm's machine shed. Some of us slept in our tents. I've spent over 200 nights in my tent and have never experienced such fierce rain. Here's a short video from day two as we set out from the Griffieon farm. (Matthew Lone Bear).
FIRST NATION – FARMER CLIMATE UNITY MARCH DAY 2

2nd day of the FIRST NATION – FARMER CLIMATE UNITY MARCH. We walked 9 miles on this day after a tireless night of thunderstorms and flash floods. The Iowa State football game was cancelled due to the storm.Total mileage 22.2 miles down.

Posted by Matthew Lone Bear on Monday, September 3, 2018

We arrived in Huxley to find the park where we were supposed to camp flooded. On very short notice the kind members of Fjelberg Lutheran Church gave us their entire building to use for the night. Check out Jeff Kisling's blog for some excellent photos and reflections.
On our third day, marchers stop to reflect and pray at one of three crossings of the Dakota Access Pipeline in Story County, bringing tears to the eyes of some of us. (Fintan Mason)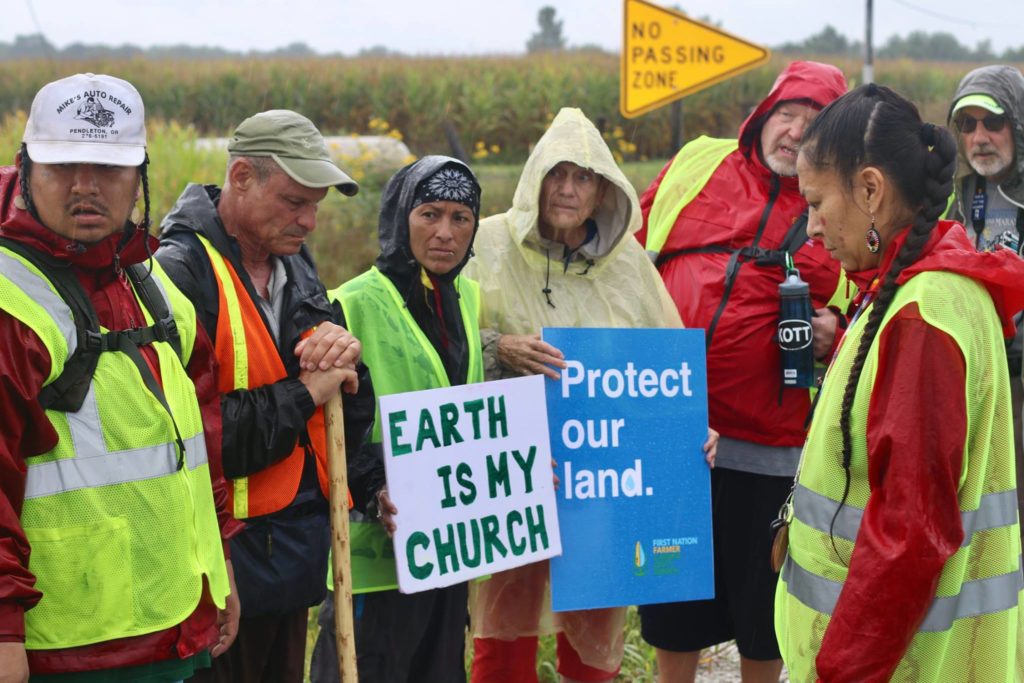 This March has been difficult. The rain and storms have been relentless. We've had other unexpected challenges as well, including the gear truck shelving mysteriously collapsing. Yet we remain strong, united, and committed to building a stronger network of people committed to persevering in the fight against the Dakota Access Pipeline. That fight comes before the Iowa Supreme Court on September 12.
Until then, we march for our water, our land, our rights, and our planet.
Ed Fallon