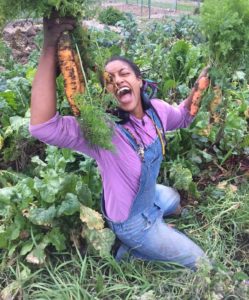 Donate to Lyssa here.

Why I'm marching: I'm providing the food for this march because conscious cuisine is central to moving beyond the climate crisis and getting people to question what's in their food and where it comes from.
About me: I run a food bus/truck called "Veggie Thumper." I raise consciousness through food awareness by providing access to high-quality vegan and vegetarian cuisine. I'm an avid gardener and love to hula-hoop in the backyard in the middle of the night.
Follow me on the March:
Facebook Veggie Thumper
Instagram @VeggieThumper
Website Veggie Thumper
Days Marching: September 1-8
Goal ($20 per day): $160
Amount donated: $40
$40 – Carol Kochheiser