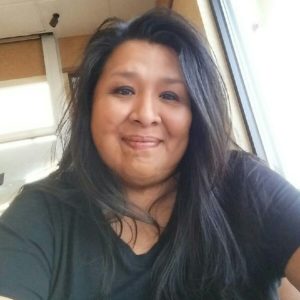 Why I'm marching: I'm marching in solidarity with Bold Iowa and Indigenous Iowa in support of all that we are fighting for. We have to be willing to sacrifice our own bodies to get our point across in this important struggle.
About me: I'm a Lakota Sioux from Standing Rock and I live in the Quad Cities. I work to educate people about the Native American perspective, about healing the Earth. The Dakota Access Pipeline has done more damage at Standing Rock than most people realize. When I went back to visit in May, I could see the sense of defeat in the people, which saddened me because we fought so hard against this threat to our water and culture. And it amazed me that you still see FBI, military, and undercover agents at Standing Rock. I stay active through Sage Sisters, which is Indigenous women fighting against injustices to Native Americans. We want to teach the community about our culture, and to show the power of Indigenous women. We are the healers who give life, and in our culture, women are the ones who are going to stand up and save the Earth.
Follow me on the March: Sage Sisters facebook page and my own personal Facebook page.
Days Marching: Not sure yet
Goal ($20 per day):
Amount donated: