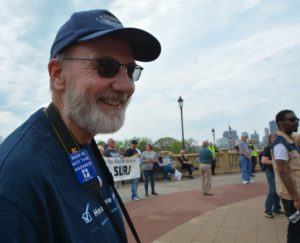 Donate to Jeff here.
Why I'm marching: Climate change has been important to me for most of my life — since I decided to give up owning a car 40 years ago. My first walk for a cause was in 1969.
About me: I was born a Quaker and have remained a Quaker all my life. I came of age in the Vietnam War. I did two years of alternative service, training as a respiratory therapist. I liked the work so well I went on to study it at Indiana University. I got into community organizing in 2013 with the pledge against the Keystone Pipeline. When the Dakota Access Pipeline became an issue, I became quite involved with that, too, meeting several Native American leaders whose outlook was very influential on me.
Follow me on the March:
Blog Jeff Kisling
Days Marching: September 1-8
Goal ($20 per day): $160
Amount donated: $160
$160 – Jeff Kisling