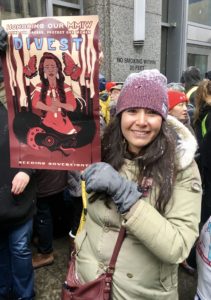 Donate to Christine here.
Why I'm marching: I am marching because no other landscape on Turtle Island has been more biologically altered than Iowa and, during this time of climate crisis, I want to convey profound and sustainable perspectives of Indigenous communities, cultures and relationships to the Earth, which is absolutely imperative to healing our Earth Mother. Recently, I created Seeding Sovereignty's Land Decolonization Project with the intent on bringing a more cohesive Indigenous stand against Big-AG, CAFOs, DAPL and more. The desired impact is to provide a louder Indigenous presence to a state "outside" of Indian country, but yet so significant in its role for our ancestors, as it lies between the Missouri and Mississippi rivers. As always, I give my gratitude to the Meskwaki people, the last nation to successfully remain in Iowa.
About me: I'm the founder of Indigenous Iowa and Little Creek Camp. I also work for Seeding Sovereignty and Bold Iowa and title myself a Decolonizer. I'm Plains Cree-Salteaux of the George Gordon First Nation in Saskatchewan, Canada and grew up in Winnipeg, Manitoba, Canada and have been living in Iowa for 12 years. I have a Masters degree in Native American Religious Studies and a graduate minor in Native American Indian Studies from the University of Iowa. I'm the mother of three and do this work for the sake of my children.
Follow me on the March:
Facebook  Seeding Sovereignty, Christine Nobiss, Indigenous Iowa
Instagram  @SeedingSovereignty
Days Marching: September 1-3 and 7-8
Goal ($20 per day): $100
Amount donated:  $45
Susan Franzen – $20
Mary Bennett – $25