Climate Activist and Bird Dog Miriam Kashia of 100 Grannies for a Livable Future was featured on MSNBC!
Included was brief footage of her arrest from Bold Iowa's June 11 action.  Support Miriam at the trial and press conference on October 10.
*******
Link 1 to original article: http://www.msnbc.com/velshi-ruhle/watch/more-older-americans-becoming-climate-activists-69497925634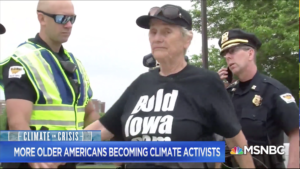 More older Americans becoming climate activists
MSNBC, September 20, 2019
Excerpt:
Millions of kids walked out of their classrooms today to draw attention to the climate change crisis. Even though most people probably associate this kind of activism with young people, the climate crisis is also turning retirees into activists. Chris Jansing explains.
*******
Link 2 to original article: https://www.nbcnews.com/now/video/meet-the-retirees-trying-to-save-the-planet-69399109536?fbclid=IwAR06skt7WNJe8_7SVsGj2MA3B3Iu8U3S5XVsaON6aJRsKOxDvx7WUfPMG3I
Meet the retirees trying to save the planet
NBC News Now, September 19, 2019
Excerpt:
NBC News' Chris Jansing travels to Iowa to speak with elderly climate change activists on what they do to raise awareness for climate change.