Dear Friends —
Whether it's last week's historic melt-off in Greenland or the Trump administration's latest attack on climate science, it's easy to lose sight of the fact that we truly are making progress. With that in mind…
COME TO BOLD IOWA'S CELEBRATION/FUNDRAISER THIS FRIDAY!
(If you can't attend, please consider a donation to support our work.)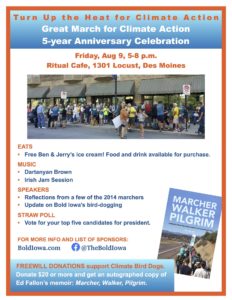 On August 9, 2014, the Great March for Climate Action stopped at Ritual Cafe in Des Moines during its 3,100-mile trek across the US. Exactly five years later, we're celebrating with music, food and drink, and a presidential candidate straw poll.
EATS. Free Ben & Jerry's ice cream! Purchase other food and drink from Ritual Cafe.
MUSIC. Iowa Blues/Jazz/Rock hall-of-famer Dartanyan Brown will perform a set, followed by a traditional Irish jam session.
SPEECHES. We'll hear short reflections from a few of the 2014 marchers, and get an update from Bold Iowa members on their work to bird-dog the presidential candidates.
STRAW POLL. Vote for your top five candidates for president. We'll announce the results Monday during the 11:00 a.m. broadcast of the Fallon Forum.
DONATIONS APPRECIATED. Donate $20 or more and get an autographed copy of Marcher, Walker, Pilgrim.
So much is happening with presidential candidates in Iowa this month! It's an all-hands-on-deck moment. We need climate voices at every candidate event — asking questions, holding signs, talking with the media, raising awareness about the urgency of our predicament. Please check this schedule of upcoming candidate appearances and let me know which ones you can attend.
Thanks, and I hope to see you on Friday!
— Ed Fallon