Link to original article: http://thegraphic-advocate.com/content/jury-finds-two-protesters-guilty-trespass-during-pipeline-construction
Coverage by The Graphic-Advocate, Rockwell City, Iowa, October 24, 2017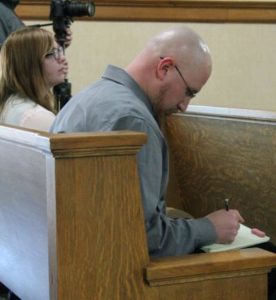 A six-person jury deliberated more than two hours Thursday evening before finding a Rockwell City woman and an Omaha man guilty of trespassing on a pipeline construction easement.
Emma Schmit, of Rockwell City, and Tosun Mahmud Fitil, of Omaha, said they were disappointed with the verdict, which their attorney plans to appeal.
"This is a clear case of the 1 percent versus the 99 percent," Schmit said, referring to descriptions of the American population divided by the top 1 percent of wealth holders and the other 99 percent of Americans.
She wasn't happy to see "county tax dollars (used) to defense a multibillion dollar corporation," she said.
Schmit and Fitil were arrested Oct. 29, 2016, on Shirley Gerjets' farm east of Rockwell City. They were part of a planned protest of the Dakota Access pipeline, which obtained an easement through Gerjets' land via eminent domain. Schmit said she was opposed to use of eminent domain – government sanctioned taking of land for a project – because she didn't think the pipeline was a public project or generated a public benefit.