Dear Friends,
The Climate Crisis Parade is shaping up to be a "big deal" (that's Bill McKibben's description — click here to watch his message). Fifty-three organizations have signed on to the Parade as co-sponsors. It's gaining lots of national interest, and Bold Iowa is one of the groups leading the charge.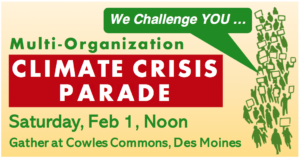 We hope you can join us on February 1!
Click here to donate to help with Bold Iowa's portion of the significant financial commitment needed to bring this major action to fruition.
In other news, this from the New York Times yesterday: "The White House on Thursday will introduce the first major changes to the nation's benchmark environmental protection law in more than three decades, moving to ease approval of pipelines and other major energy and infrastructure projects without detailed environmental review."
This development should infuriate not only those opposed to pipelines because of the climate impact, but to those opposed because of the abuse of eminent domain to build them, and the threat oil and gas poses to our land, water, and communities.
Also, thanks to all of you who wrote to the Iowa Utilities Board in opposition to the proposed doubling of oil through the Dakota Access Pipeline. Your effort truly is making a difference!
Finally, led by Samantha Kuhn, our Climate Bird Dogs continue to urge presidential candidates to talk about the climate crisis and related concerns. The candidate activity in Iowa will be thick and constant between now and February 3. Please plan to attend as many events as you can. Ask candidates about their stance on climate change, even if you know the answer, because it's important for the media to hear that voters are thinking and talking about the climate crisis.
If you need help with formulating a question or want "Climate is a Crisis" signs, contact Samantha at [email protected]. Thanks!
The Bold Iowa Team