Link to original article: www.desmoinesregister.com/story/money/business/2018/02/01/iowa-environmentalists-heading-super-bowl-protest-dakota-access-pipeline/1087402001/
Coverage by The Des Moines Register, Des Moines, Iowa, February 1, 2018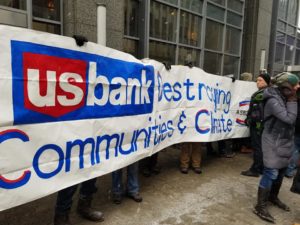 Iowa environmentalists will flock to the site of Super Bowl LII this weekend to protest the Dakota Access pipeline.
Bold Iowa director Ed Fallon said his group would join Indigenous Iowa and others from across the Midwest to protest the four-state pipeline ahead of Sunday's Super Bowl LII game at U.S. Bank Stadium in Minneapolis.
The activists are accusing U.S. Bank of financing the $3.8 billion pipeline project, which Texas-based Energy Transfer Partners completed in 2017.
During construction, environmental groups, farmers and Native Americans vigorously fought against the 1,172-mile oil pipeline, arguing it threatened water supplies, encroached on property rights and ignored the objections of indigenous peoples.
"If U.S. Bank has a moral compass, this should be a no brainer," Fallon said in a news release. "U.S. Bank is as complicit as Energy Transfer Partners for abusing eminent domain, trampling the rights of rural landowners, destroying farmers' soil and crops, and threatening our water and climate. That can change. It needs to change, and we're turning up the heat to make it happen."
But officials with the Minneapolis-based bank say those charges are unfounded.
As a matter of policy, U.S. Bank does not fund large construction projects, a spokesman said. U.S. Bank's Environmental Responsibility Policy states the bank "does not provide project financing for the construction of oil or natural gas pipelines."
"U.S. Bank did not finance the Dakota Access pipeline project," bank spokesman Dana Ripley told the Des Moines Register. "As a matter of policy we do not do project finance."
Like several other institutions, US Bank has a banking relationship with Energy Transfer Partners. But Ripley said that relationship did not involve the pipeline project.
"We have a banking relationship with ETP but we don't comment on our customer relationships," Ripley said.
Still, activists plan to rally against the bank. They will rally at 12:30 Saturday at the headquarters of Minnesota 350.org at 2104 Stevens Ave in Minneapolis. That advocacy group works to combat global climate change.
"US Bank is perpetuating the cycle of colonization that disenfranchises and oppresses those who are not 'privileged' enough to be part of middle and upper class American society," said Christine Nobiss, founder of Indigenous Iowa, said in the news release. "US Bank funds the extraction industry and allows government-backed corporate conglomerates to move in to poor communities and create havoc."