Link to original article: www.thegraphic-advocate.com/content/calhoun-county-pipeline-opponents-stage-protest-king%E2%80%99s-office
Coverage by The Graphic-Advocate, Rockwell City, Iowa, February 28, 2017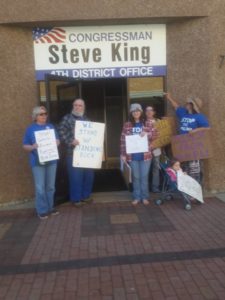 A group of Calhoun County residents who have opposed the Dakota Access pipeline gathered at U.S. Rep. Steve King's Fort Dodge office last week to protest the project.
The protest was part of a statewide protest, organized by Bold Iowa, with events that took place in Ames, Cedar Rapids, Davenport, Des Moines, Grinnell, Iowa City, Newton, Sioux City and Omaha, Neb.
Emma Schmit of Rockwell City said the Fort Dodge protest wasn't as effective as she had hoped it would be, since neither King nor any of his staff were at the office.
"We left a couple of signs for him," Schmit said Sunday, talking about the protest, which about 10 people attended. All but one of the protesters were from Calhoun County, she said. "We talked to a couple of people as they walked by."
Schmit has been active in protesting the Dakota Access pipeline. She is facing misdemeanor trespassing charges after being arrested during a protest on a Calhoun County construction site last fall.