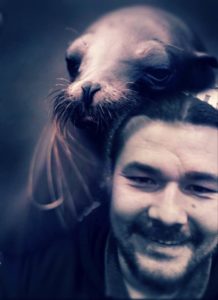 Why I'm marching: This march is important to me because privatizing the profit and socializing the risks of the fossil fuel industry is an example of extractive capitalism, which moves us into feudalism or totalitarianism governed through a police state. People would not support this if there was true democratic justice because, in the case of the Iowa Utilities Board and their abuse of eminent domain, corporate rights superseded human and environmental rights.
About me: I'm a Native Alaskan and global social entrepreneur working to restore ecological and cultural balance. I'm an ambassador of Digital Smoke Signals, an Indigenous-led media organization that brought global attention to the Standing Rock movement. I bring my passion to promote regenerative economic solutions to catalyze Empowerment WORKS' Synergy Fund Initiative — bringing Indigenous values to impact investment.
I'm the third generation in my family to graduate from college, at Fort Lewis College, where I developed a student-constructed major titled "Native Nation Building – Sustainable Community Development." I went on to study sustainable energy systems and policy at the School for Renewable Energy Sciences in Iceland.
I've participated in the United Nations Earth Summit on Sustainable Development, representing civil society by speaking at the Sustainable Energy for All event of the RIO+20 Summit.
Follow me on the March:
Days Marching:  Sept 1 – 8
Goal ($20 per day): $160
Amount donated: