Link to original article: http://wnax.com/news/180081-dakota-access-pipeline-opponents-to-rally-saturday-at-iowa-state-capital/
Coverage by WNAX, Yankton, South Dakota, June 29, 2017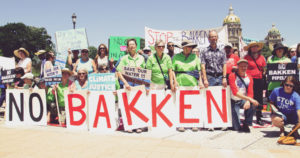 Dakota Access Pipeline opponents are gearing up for rally in Des Moines on Saturday. The event is co sponsored by BOLD Iowa and the Indigenous Iowa Network. BOLD Iowa Executive Director Ed Fallon says while a recent North Dakota Judge's decision stopped movement of the pipeline there, other moves to oppose the project are continuing including a call to action at the rally.
He says eminent domain concerns of Iowa landowners and farmers over the pipeline will be highlighted in upcoming court proceedings.
Fallon says legal briefs will be filed in July followed by the response by the defense. He expects the case to go to trial at the State Supreme Court either at the end of the year or in early 2018. Fallon says one of the pipeline protestors will be in court this Friday.
Saturday's rally will be held at the Iowa State Capital in Des Moines.