Dear Friends,
Actions have consequences. That's a lesson each of us learned as kids — hopefully. Now it's Wells Fargo's turn to learn about consequences for a string of transgressions that make anything most of us did as kids look, well, like child's play.
– Wells Fargo continues to finance the Dakota Access Pipeline and other Energy Transfer Partner fossil fuel projects.
– Wells Fargo also finances private prisons, the NRA, and other industries coming under intense public scrutiny.
– Wells Fargo has been "accused of ripping off small business owners on credit card transactions and retaliating against workers who called the ethics hotline." (Story in WSIS)
– Wells Fargo has "admitted to opening as many as 3.5 million fake accounts, forcing customers into auto insurance they didn't want and charging unnecessary mortgage fees." (Story in WSIS)
Wow! Wells Fargo has even been sacked with a $1 billion fine and forced by the Federal Reserve to limit its growth. Its consequences may continue to pile up.
At the grassroots level, during its national shareholders meeting last week in Des Moines, Wells Fargo came under fire both inside and outside the meeting.
Check out this excellent coverage by KCCI TV 8 of the protests outside the meeting.
And here's what Common Dreams had to say.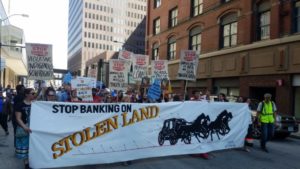 What's next in the growing effort to get Wells Fargo to shape up? That's under discussion in Iowa and across the country. Stay tuned!