Q: How do I sign up?
A: Go to this link and fill out the short form with your contact information. Someone with Bold Iowa will get in touch with you. (We promise never to share contact info with anyone else.) Since candidate events often pop-up on very short notice, you'll get notification of opportunities to bird dog with either a phone call, email, or text message.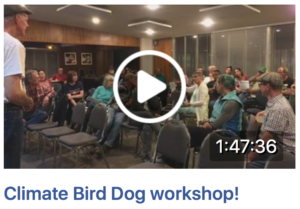 Q: I'm new to this. Are any trainings or workshops planned?
A: So glad you asked! We have almost weekly briefings by phone (usually for 6-12 bird dogs for targeted events). We held a full-scale workshop on Thursday, April 25. View the video.
Q: Should I bring signs with me?
A: If it's a big, well-attended candidate event, signs are helpful. At some events, a team leader will bring signs. Otherwise, you can download Be Bold on Climate signs and Climate is a Crisis signs to print at your home computer or at a local print shop. We'll revise and upgrade our arsenal of signs as the campaign progresses.
These two signs are formatted for 11″x17″, however they can fit on a 8.5″x11." At most events, the larger signs are best. As the campaign progresses, larger events will become more common, so signs will be more important than ever.
Q: How to keep track of upcoming candidate events?
A: We'll do the best we can to get the word out as soon as we know of candidate events in your area. The best resource we've found to keep track of upcoming events is the Des Moines Register's Candidate Tracker.
Q: How do I learn more about the Green New Deal?
A: Go to the source. Check out the actual proposed Green New Deal resolution. It's refreshingly brief and readable.
Q: Where do I go to learn what other bird dogs have been doing?
A: Well, that's easy: right here on Bold Iowa's website: Climate Bird Dogs.