Sunday, January 12, 2020
Town Hall Forum
Marshalltown, Iowa
Bird Dogs: Kathy Byrnes and Ed Fallon
Climate bird dogs went to see Elizabeth Warren (and new sidekick, Julian Castro) in Marshalltown. Kathy won the question raffle and got interviewed by People's World, who later mentioned and quoted her in its story. Read the article at this link: https://peoplesworld.org/article/warren-presents-ambitious-plans-to-voters-in-rapidly-changing-small-town-iowa/. Watch Kathy ask Warren about declaring a climate emergency on Day One:
*******
Monday, November 25, 2019
West Des Moines
Bird Dogs: Kathy Byrnes, Ed Fallon, Kari Noble, Steve Shivvers
Climate bird dogs went to the Val Air Ballroom for an Elizabeth Warren Town Hall. Steve Shivvers, with Citizens Climate Lobby, managed to win the very first "question raffle." That's where attendees take a ticket, and those whose numbers are drawn get to ask the candidate a question.
Steve asked "Once you are president what will you do, what priority will you give, to address the deepening climate crisis and to remove nuclear weapons from this earth?"  Watch her response below:
*******
Sunday, October 20, 2019
Des Moines
Bird Dogs: Kathy Byrnes, Ed Fallon, Samantha Kuhn
Elizabeth Warren spoke extensively about climate change during her remarks, including how oil interests have used the power of their wealth to buy influence and affect policy on climate.
*******
Sunday, May 26, 2019, 4:30 p.m.
Fairfield
Bird Dogs: Ann Bosold, Pat Bosold, Jonas Magram, Denyce Rusch, Carole Simmons, Mary Tarnoff, Francis Thicke and others with Climate Action Iowa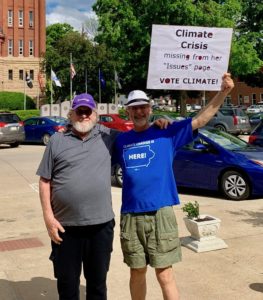 Jonas reports: "No signs were allowed inside the event itself, but I held one outside of the event that said 'Climate Crisis missing from her 'Issues' page. Vote Climate!'
"A couple of her people tried to tell me that climate change was listed among her issues. However my sign was accurate and one has to dig to find any mention of climate change. I did have a couple friends give me the evil eye, but nothing serious.
"Warren did speak about climate, but not as forcefully as Bernie did."
*******
Sunday, May 26, 2019, 2:00 p.m.
Ottumwa
Bird Dogs: Shaun Ahern
Shaun was the lone climate bird dog at Warren's event in Ottumwa. He held a "Climate is a Crisis" sign, and reports that Warren did talk quite a bit about the climate crisis.
*******
Saturday, May 25, 2019
Newton
Bird Dogs: Kathy Byrnes, Tory Church, Parker Creech, Jennie Erwin, Ed Fallon, Doug Fuller, Samantha Kuhn, Valerie Madison, Marty Monroe, Joe Sharp
For the first time ever in our experience attending her events, Sen. Warren kicked off her speech talking about the climate crisis. She devoted more time to climate than at any previous event we attended, and we were fortunate that one of our bird dogs, Marty Monroe, had his number called to ask a question. Marty was one of a handful of bird dogs dressed as a penguin, so that made the exchange a bit more colorful.
*******
Friday, March 29, 2019, 6:45 p.m.
West Des Moines
Bird Dogs: Kathy Byrnes, Adrianne Erickson, Ed Fallon, Shari Hrdina, Sheila Knoploh-Odole, Sam Kuhn, Marty Monroe, Susan Pohl, Todd Steichen
We stood directly in front of Warren as she spoke to a packed room in West Des Moines. She referenced our signs several times during her speech. Questions were taken by lottery, and none of us were selected to ask a question during the Q&A section. After the formal program, her state coordinator Janice Rottenberg, approached our group and asked pointedly, "We see you everywhere. What do you want?"
We explained that if climate is the existential threat as Sen. Warren seems to understand that it is, we questioned why it is not prominent in her speech. Janice offered to talk further.
UPDATE: Janice followed up with a phone call, and Kathy and Ed encouraged Sen. Warren to emphasize the urgency of the climate crisis, the importance of the Green New Deal, and how the Dakota Access pipeline negatively affects farmers, landowners and Indigenous communities. Janice seemed quite receptive.
*******
Friday, March 29, 2019, 3:30 p.m.
Perry
Bird Dog: Keith Puntenney
Keith Puntenney reported that Warren came out strong for climate change and Green New Deal as a concept, and she did bring up climate in her stump speech. He was the first questioner and explained to Warren how the Dakota Access Pipeline had destroyed 6,000 acres of farmland.  Keith also talked about the Green New Deal and related climate concerns.
He said there is room for improvement in Warren's perspective as there were many things she didn't address, but could have, such as how we transition to a Green New Deal with a modern grid for solar, wind, and biofuels.
*******
Friday, March 29, 2019, 12:30 p.m.
Marshalltown
Bird Dogs: Sid Barfoot, Jaylynn Bear, Ruby Bodeker, Barbara Ching, Ed Fallon, Kamhel Timberwolf, Donnielle Wanatee
During the Q&A, Barbara Ching asked Warren about climate change. Later in the video Ruby Bodeker emphasized the urgency of the climate crisis while speaking one-on-one with Sen. Warren. Warren supports the Green New Deal as a comprehensive solution, and stated that corruption in government needs to be addressed, otherwise serious climate reform will be blocked. Video credit to Sid Barfoot.
Donnielle Wanatee of the Meskwaki Tribe also had an opportunity to share Indigenous concerns with Sen. Warren. Donnielle has been one of Iowa's key leaders in the Dakota Access Pipeline fight. The off-camera voice in the conversation is State Representative Mark Smith. Thanks to Sid Barfoot for the video.
*******
Saturday, March 2, 2019
Waterloo
Bird Dogs: Kathy Byrnes, Ed Fallon, Sam Kuhn, Marty Monroe
In response to Ed's question about whether she's willing to prioritize climate change, Senator Warren said, "The problem we have in Washington is how many politicians have sold out to the oil companies. … When I say the way we have to start this is around corruption and beating back the influence of money in Washington, taking back our government so it works for us instead of working for those with money, that is prioritizing climate change."
Ed writes, "Warren didn't answer my question. She deflected. I asked her pointblank if she would prioritize the climate crisis and she flipped the question to her top issue. Sure, corruption is a problem. But it'll take years to drain the DC swamp, especially after the bigger gators Trump's stocked it with. Rooting out the corrupting influence of money in politics is an important issue. But it's an issue. Climate change is an escalating crisis. It needs to be tackled head on, not through side bars like Warren's end-corruption focus, or Andrew Yang's guaranteed-annual-income focus. When candidates take a question about prioritizing climate change and simply talk further about their campaign's main theme, they're essentially saying that climate change is not their top priority, and that's unacceptable."
*******
Saturday, March 2, 2019
Decorah
Bird Dogs: Kai Hedstrom, Toby Cain, Hannah Breckbill
Kai writes, "Overall, I came away impressed. She is clearly very passionate and at the same time authentic and genuine — or at least that was my perception. Her biggest campaign pitch has to do with assisting working families and reversing the system we currently have in place where big money dictates what legislation and policies folks in DC focus on.
"She only took three questions after her speaking engagement, so I didn't get a chance to ask about climate change. She then took the time to take pictures with and meet everyone in attendance, which I thought was quite nice of her. I did get to shake her hand and meet, but it was a 15-second interaction. I told her I hoped she continues to focus on climate change as it is the policy my generation is going to have to deal with and suffer the consequences of. She seemed receptive to that."
*******
Sunday, February 10, 2019
Town Hall Forum
Davenport, Iowa
Bird Dogs: Josie Ironshield, Christine Nobiss, Bob O'Hare, Lakasha Touches Lightning, Michael Wilcox, Linda Willaredt, Jay Wolin
Thanks to Jay Wolin for capturing video of Michael Wilcox's question on climate and the Green New Deal (3:00-minute mark on second video). Thanks to the others who were there to bird-dog on the climate crisis and related concerns, including Christine Nobiss and Lakasha Touches Lightning with Seeding Sovereignty, Josie Ironshield with Sage Sisters of Solidarity, Linda Willaredt, and Bob O'Hare.
Our one complaint about this event was that Warren only took two questions from the audience. Mike Wilcox (who claims he never wins the door prize) was selected out of what appeared to be a large number of question requests. So, we got lucky.
After the formal program, both Christine Nobiss and Josie Ironshield had a chance to talk with Warren privately. Josie writes, "Senator Warren really sympathized with me about the Dakota Access Pipeline. I told her I thought President Trump was horrible to call her 'Pocahontas.' I told her that, as an Indigenous person, I too took offense to his comment."