Saturday & Sunday, December 21st & 22nd, 2019
Osceola, Sidney, Harlan, Ida Grove, Denison, Clarinda, Bedford, Audubon, Logan, Sac City, and Cherokee, Iowa
Bird Dogs: Samantha Kuhn and Marty Monroe
Climate bird dogs Marty and Samantha went on an anti-pipeline mission this past weekend, taking them through a sizable chunk of southern and western Iowa.
The bird dogs went to towns where Senator Amy Klobuchar was scheduled to speak, armed with a banner, a miniature DAPL pipeline (complete with "oil" spilling out of one end) and a whole bunch of pamphlets.  Before the senator arrived, they passed out these pamphlets which provided information about Klobuchar's position on fossil fuels and pipelines. Event attendees were surprised (and mostly dismayed) upon hearing Klobuchar's connections to Line 3's project manager, who donated money to her presidential campaign, and her continual evasiveness when questioned about pipelines.
Marty and Sam encouraged the attendees to ask Klobuchar whether she would come out against ETP's proposal to double DAPL's oil capacity, a subject that is near and dear to the hearts of many Iowans. Out of all the presidential candidates, only Klobuchar and Bloomberg have not come out against ETP's attempts to transport more oil through Iowa, even though it would likely result in more pipeline leaks and greatly increase the chances of a major spill.
Check back as we update this entry to hear more about Marty and Sam's journey through Iowa and their attempts to educate people about Klobuchar's apparent lack of concern about expanding fossil-fuel infrastructure, which is what's helping to fuel the climate crisis.
*******
Thursday, December 5, 2019
Des Moines, Iowa
Bird Dogs: Todd Steichen, Kathy Byrnes, Samantha Kuhn, Matthew Peirce, Ed Fallon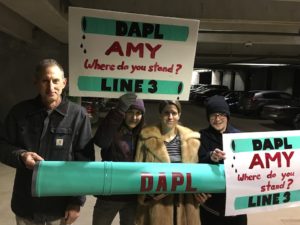 We stood at both entrances to Klobuchar's event at Glassbox, passing out information about her unresponsiveness to our questions about DAPL. We knew several of the people attending, who agreed to try to ask her a question about her stand on the pipeline. We spoke with one reporter.
*******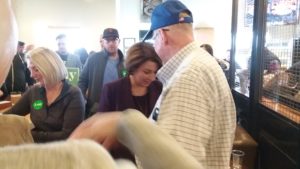 Friday, November 8, 2019
Ankeny, Iowa
Bird Dogs: Kathy Byrnes
The man in this picture is new to Iowa. Kathy gave him our flier expressing deep concern about Amy Klobuchar's support for oil pipelines. In this picture, he is handing the flier to Klobuchar.
*******
Thursday, November 7, 2019
Johnston, Iowa
Bird Dogs: Shaun Ahern, Kathy Byrnes, Ed Fallon, Todd Steichen, Lysa Fisk, Sarah Spain
Before her meet-and-greet at the Cozy Cafe, we passed out a flier to attendees and the media, explaining our concerns about Sen. Klobuchar's refusal to answer questions about the Dakota Access Pipeline (DAPL).
At this event, Kathy asked her about DAPL and Line 3. She completely dodged the DAPL question, making some vague reference to Standing Rock. Regarding Line 3, she spoke about "calling for it to be delayed so that there's an environmental review."
Sorry, Sen. Klobuchar, but we know this game. Politicians who want cover demand an environmental review knowing full well the entities in charge will inevitably come down on the side of Big Oil. The politician can then say that they tried. We call that BS.
We offered Klobuchar one more chance to tell us whether she opposes or supports increasing the flow of oil through DAPL. As she was leaving the Cafe, Ed asked her pointblank for her position on DAPL. She again refused to answer.
It's pretty clear where Klobuchar stands. She is the only candidate who has refused to answer our bird dogs' questions about climate and DAPL. Her refusal to respond makes it clear that she is pro-pipeline. As such, she is not serious about climate action along the timeframe dictated by science. She is a climate hypocrite.
*******
Friday, November 1, 2019
Des Moines, Iowa
Bird Dogs: Shaun Ahern, Kathy Byrnes, Mary Corsair, Ed Fallon, Shari Hrdina, Marty Monroe, Todd Steichen, Margaret Vernon, Channing Dutton, Christine Curry and others with Citizens Climate Lobby
Before the start of the Liberty and Justice Celebration at the Iowa Events Center, we staged our presence at Klobuchar's rally. Our bird dogs have previously asked her nearly a dozen times where she stands on the Dakota Access Pipeline and Line 3, and she has refused to answer. We decided to take the pressure to a new level, painted two simulations of an oil pipeline, and made signs asking, "Amy, Where do you stand?"
After the rally, we made our way to the front of her parade. When the parade arrived at the Iowa Events Center, we partially blocked her entrance to the building. There were enough options for Klobuchar and her supporters to work their way around us, but we had accomplished our main objective — calling her out for her support of oil pipelines.
Dozens of Klobuchar supporters asked about our message, and nearly all were surprised that she refuses to answer questions from Iowans about her position on oil pipelines.
In addition to our action, we helped Citizens Climate Lobby pass out "Keep the climate promise" cards to hundreds of attendees.
*******
Thursday, October 31, 2019
Des Moines, Iowa
Bird Dogs: Shaun Ahern
Shaun writes, "At the Klobuchar event at Bubba's Restaurant, I needled my way through a lot of people in a small, narrow space. I was almost to the point where I could talk with her, when a campaign staff asked if I wanted a photo. I told them I wanted to ask her a question and have someone take a video of us. I slipped in that it was about DAPL, and that's when Klobuchar's chief of staff talked to me. I explained the recent proposal to double the flow of oil through the Dakota Access Pipeline, and the staffer said she had not heard about it. I think I heard her say that they will look at their policy platform to reflect Kobuchar's stance on DAPL.
"Even after that conversation, I was going to try to ask Klobuchar about DAPL personally, but her chief of staff stayed close to her most of the remaining time Klobuchar was there. I didn't want to push the envelope too far, and left it at that."
*******
Saturday, August 10, 2019
Des Moines, Iowa
Iowa State Fair
Bird Dogs: Kathy Byrnes, Ed Fallon
Ed writes, " I said hello to Senator Klobuchar and she was as friendly as could be. But as soon as I mentioned the Dakota Access Pipeline, she turned away, muttered something, and ignored me. Several Bold Iowa bird dogs have tried to get her to tell us where she stands on DAPL and on Line 3, but she is consistently elusive. Beyond disappointing."
*******
Monday, July 1, 2019
Adel, Iowa
Bird Dogs: Samantha Kuhn
Samantha attended a meet-and-greet with Sen. Klobuchar and asked if she would agree to participate in a Climate Debate. It looks like she's in. The moment was also caught on camera by C-SPAN. Click on the link to watch.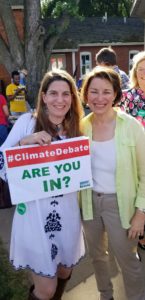 C-SPAN Clip: Amy Klobuchar with Samantha Kuhn
*******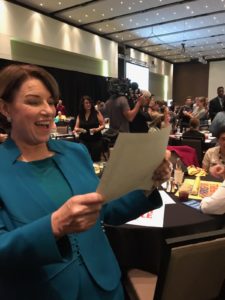 Sunday, June 9
Cedar Rapids, Iowa
Hall of Fame Reception
Bird Dogs: Samantha Kuhn and Matthew Peirce
Amy Klobuchar receiving Bold Iowa's DAPL Dodger "award" due to her reluctance to discuss to discuss pipeline issues. At least she had a sense of humor about it.
*******
Sunday, May 26, 2019
Boone, Iowa
Bird Dogs: Sid Barfoot, Mark Clipsham
Mark writes: "I liked her, and found her very personable without the politician feel. That said, she talked a lot about health care, but not about health. She talked a lot about helping farmers, but not about the fact that we need a different kind of farmer and food chain/sourcing. She didn't seem to be able to connect all the dots.
"We need to point out to candidates that the American consumer is kind of like a goose being prepared for pate. Over production means stuffing materialism down our throats until we are sick with excess. Exhibit A: the health and mental health care crisis. The vast majority of people I see at the clinic are there because of poor diet and lack of exercise. We are marketed products loaded with salt, sugar and fat, when what we need are fruits and veggies."
*******
Saturday, May 25, 2019, 6:00 p.m.
Des Moines, Iowa
Bird Dogs: Channing Dutton
Channing writes: "Amy Klobuchar saved the best til last at her birthday bash this Saturday night in Des Moines. A crowd of more than 200 heard her take apart Donald Trump on issue after issue. Then, to close she turned to climate change and spoke for 5 minutes about her passion for action. She has a firm grasp of the urgency and spoke of day one action from a President Klobuchar to restore the action programs being undone by Trump at this very moment.
"The only troubling aspect of the speech was the lack of a comprehensive climate action plan beyond the words, 'I will act.' With Washington Governor Jay Inslee leading the way and Senator Elizabeth Warren pivoting toward her own action plans, now is the time for Klobuchar to answer the bell and lay out the details of how she will act on climate with detailed proposals. Hint: No more horsing around with small steps. Rejoining the Paris accords is not nearly enough."
*******
Saturday, May 25, 2019, 3:30 p.m.
Iowa Falls, Iowa
Bird Dogs: Kathy Byrnes, Ed Fallon, Samantha Kuhn and Marty Monroe
The Bold Iowa penguins showed up at Klobachur's meet-and-greet in Iowa Falls. Samantha got the last question in and asked her about Line 3 and the Dakota Access Pipeline.
Klobuchar said, "We need to greatly reduce our dependence on fossil fuels, and eventually we won't need these pipelines if we do that in the right way — or we'll need them in a limited way. Because I think for quite a while we're going to see the use of gas and the use of oil, and so we're going to continue to have some of that going on for many years in the future."
Ed writes, "Read between the lines! Klobuchar doesn't say we need to get off fossil fuels. She says we need to reduce our dependence on them. She sees continued reliance on oil and gas pipelines for quite a while and for many years in the future.  She throws out the right general sound bytes on climate, but when pushed for details, it's clear her allegiance is to the fossil-fuel industry, not to the imperative for immediate climate action on the timeframe dictated by science."
*******
Saturday, May 25, 2019, 10:00 a.m.
Decorah
Bird Dogs: Toby Cain, Julie Fischer, Ruth Huffman
Toby reports: "Senator Klobuchar talked about our signs in her speech this morning and said that climate is a Day 1 and Day 2 priority. Tons of folks asked me for signs afterwards so I'll print more next time. 🙂 We had a dozen."
Ruth writes: "Sen. Klobuchar wouldn't take my question. She looked me in the eye several times, then looked away and chose someone else. When another person recorded a question, she said, "People who record are usually plants." I was recording all of her climate points, so we probably need someone with no signs and no obvious recording to get her to take our questions."
*******
Friday, April 12, 2019
Des Moines
Bird Dogs: Claire Guderjahn, Shari Hrdina
Shari writes, "This was a private event for the Asian & Latino Coalition. None of the questions asked during the formal portion were related to climate. However she did bring up climate in one of her answers. After the event, we were able to ask her a question about how she could bring climate to the forefront of her campaign.  She did not answer that question, but rather talked about the climate action she would take when she was president."
*******
Saturday, February 16, 2019
Mason City
Bird Dog: Mark Kuhn
Mark writes, "Sen. Klobuchar pledged at a well-attended event that if elected president she would re-enter the Paris Climate Accord on her first day in the White House. Also, as reported in the Mason City Globe Gazette, Lydia Futrell, a 17-year-old student from Clear Lake, told Klobuchar that her top two issues were climate change and gun violence."