Saturday, October 12, 2019
Roosevelt High School
Des Moines
Bird Dogs: Kathy Byrnes, Ed Fallon, Channing Dutton
Our Bold Iowa bird dogs had an eventful Saturday! At Buttigieg's rally  the lawn at Roosevelt High School, Kathy and Ed maneuvered themselves behind the stage and displayed "Climate is a Crisis" signs. Take a look at The Hill tweet below, which at last count had 55,000 views. Unfortunately, Channing Dutton was kicked out of the event for his climate flag. Oh well, you can't win them all!
*******
Tuesday, August 13, 2019
Iowa State Fair
Des Moines
Bird Dogs: Lysa Fisk and Samantha Kuhn
Lysa Fisk and Samantha Kuhn attended Mayor Pete Buttigieg's turn on the Iowa State Fair Soapbox, which had a surprisingly large turnout considering he was the only candidate speaking that day. Samantha was able to ask Pete about whether or not he would declare a climate emergency on Day One of the Oval Office, to which he replied "Most likely, because it will certainly be an emergency by that time." She also asked him if he would speak out against the expansion on the Dakota Access Pipeline, but he was not aware of the issue at the time of the State Fair. He did ask for Bold Iowa's contact information so we can give him more information about the topic. Hopefully, we will soon be in touch with Mayor Pete's campaign regarding DAPL's possible expansion!
*******
Friday, May 17, 2019
Des Moines
Bird Dogs: Kathy Byrnes, Ed Fallon
*******
Wednesday, April 17, 2019
Des Moines
Bird Dogs: Ed Fallon, Samantha Kuhn
Ed Fallon and Samantha Kuhn attended Mayor Pete Buttigieg's live C-SPAN event hosted by the Asian & Latino Coalition on Wednesday, April 17th.  Ed was one of the pre-selected six people who were invited by the coalition to ask the presidential hopeful questions.  During the speech, Buttigieg briefly mentioned the climate crisis, how it is a national security problem and an existential crisis.  Ed the opportunity to state that he's looking for a candidate who will make it clear that this a crisis, not merely another issue.  He wants a candidate who will stress the urgency of the crisis in their campaign and make it clear to the media and the voters how we need to take action immediately–will Buttigieg be that candidate?
Buttigieg stated that we will be hearing plenty about the climate crisis from his campaign and discussed the different steps that need to be taken in order to address this problem.  He stressed that America needs to unite together to fight what we have done to the environment, the same way we came together during the Great Depression and WWII.  We need to use policy, existing technology and invest billions to explore new "green" technology and create new jobs.  He also emphasized that it is a problem that is NOT theoretical, it's happening to us right now and we need to address it.
*******
Tuesday, April 16, 2019
Des Moines
Bird Dogs: Jennie Erwin, Samantha Kuhn, Todd Steichen, JoAnn Tully, Don Wiviott
Mayor Pete Buttigieg's original 50-person meet and greet today turned into a 1600 person rally with some twists and turns for the Bold Iowa Climate bird doggers.  The first of the bird doggers, Samantha Kuhn was asked to be behind Mayor Pete which she agreed to do only if she got to bring her Bold Iowa Climate is a Crisis poster on stage with her.  The volunteer said he would check and get back to her.  An hour later a Polk County democrat official approached saying she must remove all hand-made signs from the premises.  Even if they agreed to the sentiment, posters that didn't solely endorse the mayor were forbidden and if she didn't get rid of them, she would be taken off the premises by security.  Thankfully, our favorite agitator-in-chief, Ed Fallon suggested that the bird-doggers hold the signs outside of the cordoned off area.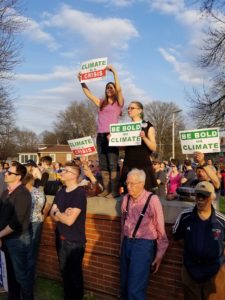 After vacating the premises, she met up with fellow bird doggers Jennie Erwin and Todd Steichen in the parking lot, where they folded up and hid the signs in Jennie's backpack.  Wandering back to the rally, they met up with organic farmer advocate Don Wiviott who had found the perfect place for them to stand—on top of the school's four-foot tall stone sign, putting them above everyone in the crowd.  The signs remained hidden until Mayor Pete Buttigieg (pronounced Boot-edge-edge) hit the stage, when Sam and Jennie got up on the stone holding the Bold Iowa signs high.
During Buttigieg's speech, he mentioned the climate crisis as an existential crisis, a matter of national security and when he did, he pointed directly to our Bold Iowa bird dogs and their signs.  Unfortunately, he only mentioned the climate change problem briefly during his speech.  After his speech, he took a few questions that members of the audience had written down before the event.  The very first one was from a woman named Courtney (thank you, whoever you are!) who asked "What will you do about the Climate Change problem?"  Mayor Pete explained that timelines were inconsequential since politicians were not the ones who decide these things, science does.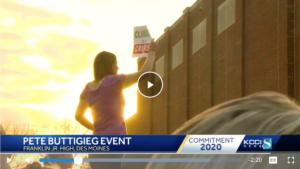 He likened the climate crisis to the Great Depression and WWII and instead of uniting together to fight people, we have to unite against what we have done to the climate and out of this we can stimulate the economy.  There are four things we have to do 1) A carbon tax 2) Massive R&D on par with the Manhattan project, since this is a multi-trillion dollar emergency 3) use existing technology 4) talk about energy efficiency and independence on both the national and individual level, such as making each individual house net-zero emissions with a kit from Uncle Sam.  The most important thing is to admit the extent of this crisis and act NOW when we should have started yesterday.
In the end, though his speech did not give nearly enough attention to the climate change crisis, it is obvious Mayor Pete Buttigieg has definite ideas on how we should meet this challenge.  And in a very interesting afternote, one of our climate bird doggers was well-seen above the crowd with the Bold Iowa sign on the local news at KCCI-Channel 8 (see picture linked above) and Mayor Pete took a picture with Sam and the "forbidden" sign.
*******
Monday, March 4, 2019
Davenport
Bird Dog: Mike Wilcox
Mike Wilcox filmed South Bend, Indiana Mayor Pete Buttigieg in Davenport responding to a question about the Green New Deal. "Yes, he was actually standing on a ladder," says Mike.