Dear Friends,
[SIGN UP HERE FOR BOLD'S CLIMATE BIRD DOG WORKSHOP, APRIL 25!]
Our hearts and minds strain to process the flood of climate-enhanced destruction in Iowa, Nebraska, and eastern Africa. Yet in the broader fight against climate chaos, signs of encouragement are growing:
There's this story: Citing climate change, U.S. judge blocks oil and gas drilling in large swath of Wyoming.
And this: Court upholds ruling that bars Keystone XL pipeline work.
Hopefully, these rulings bode well for a favorable outcome in the landowner/Iowa Sierra Club lawsuit against the Dakota Access Pipeline, which we expect any day now.
And there's more good news. The Youth Climate Strike, of course, and Bold Iowa's Climate Bird Dogs — now 180 strong. Through persistently hammering on the urgency of the climate crisis at candidate events across the state, we absolutely are changing the conversation!
Here's just a few slices of what we've got to report: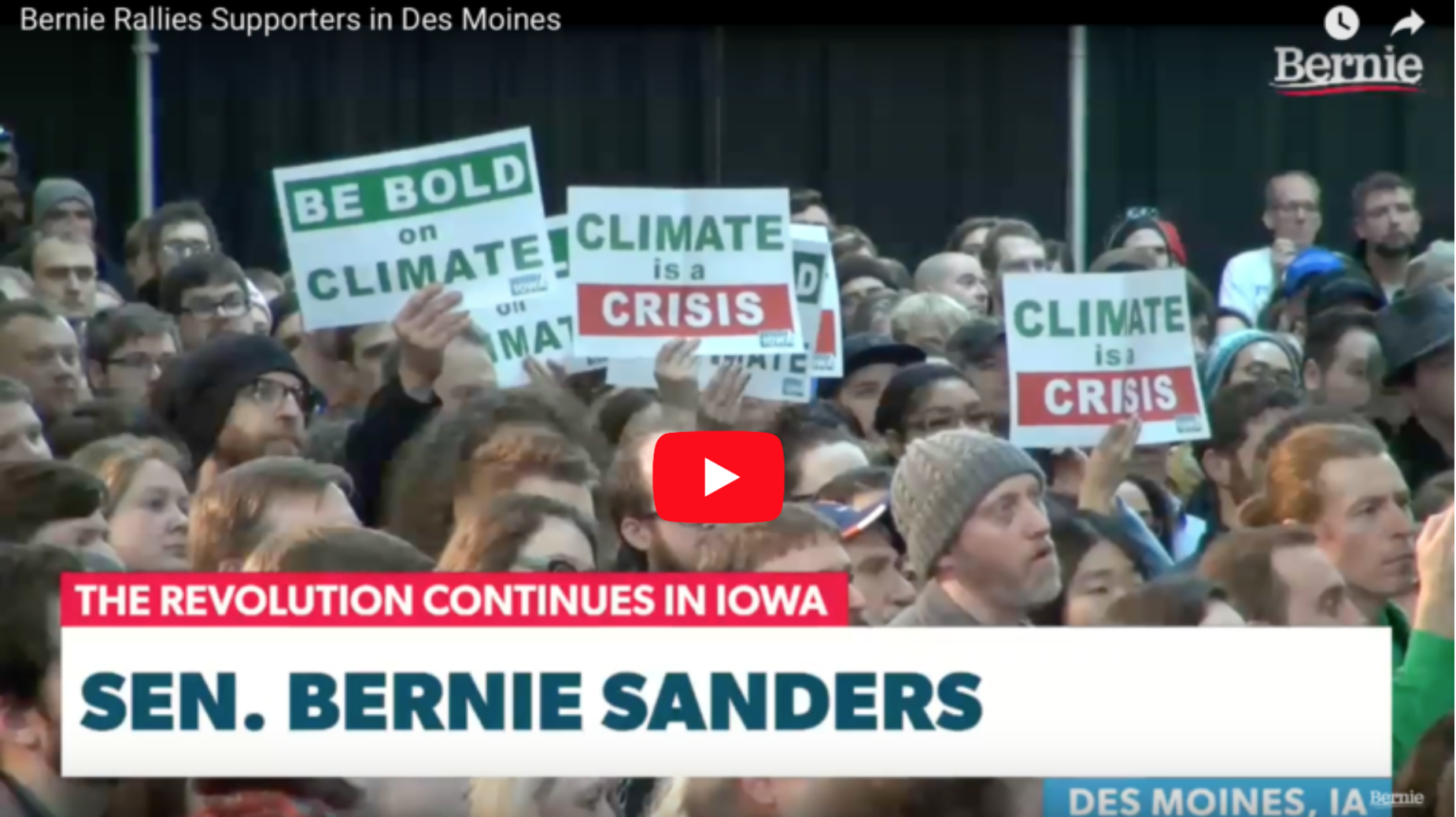 BERNIE SANDERS (Des Moines, March 9). Thanks to reconnaissance from Melanie Williams-Smotherman in Council Bluffs and Holly Hart in Iowa City, our bird-dog team in Des Moines was prepared for Sanders' campaign's ban on signs. Despite bags being searched, our signs made it into the venue.
When Sanders began to talk climate in the middle of his speech (see the video), the signs came out. At one point, Sanders looked right at us and went off script, comparing the lies spread by the fossil-fuel industry to the lies spread by big tobacco companies. At his Des Moines rally, Sanders talked about climate for nearly twice as long as he did in Iowa City and Council Bluffs. It's clear that our signs had everything to do with it.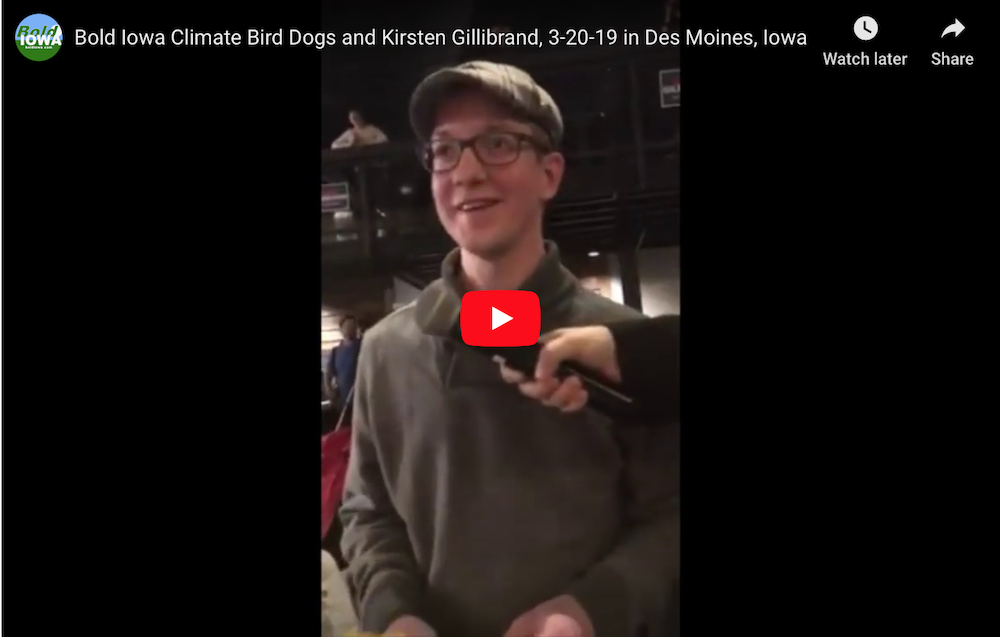 KIRSTEN GILLIBRAND (Des Moines and Ottumwa, March 20). Commendably, Sen. Gillibrand began her speech by talking about the historic flooding in SW Iowa — and she made the climate connection!  Notice in the video, though, that she says she'll talk more about climate during her speech, yet doesn't.
We were fortunate that, of the ten audience members randomly selected to ask a question, one of our team — Matthew Peirce — was chosen. Gillibrand's answer was solid. Again, check out the video.
When we talked with her after the event, Gillibrand emphasized that climate was indeed her top concern. Yet we didn't get that impression from her speech, since she only mentioned it at the very beginning, and then when it came up as a question.
To sum it up, while we like what Sen. Gillibrand had to say, if she's serious about the climate crisis, she'll have to make it a stronger component of her presentation going forward.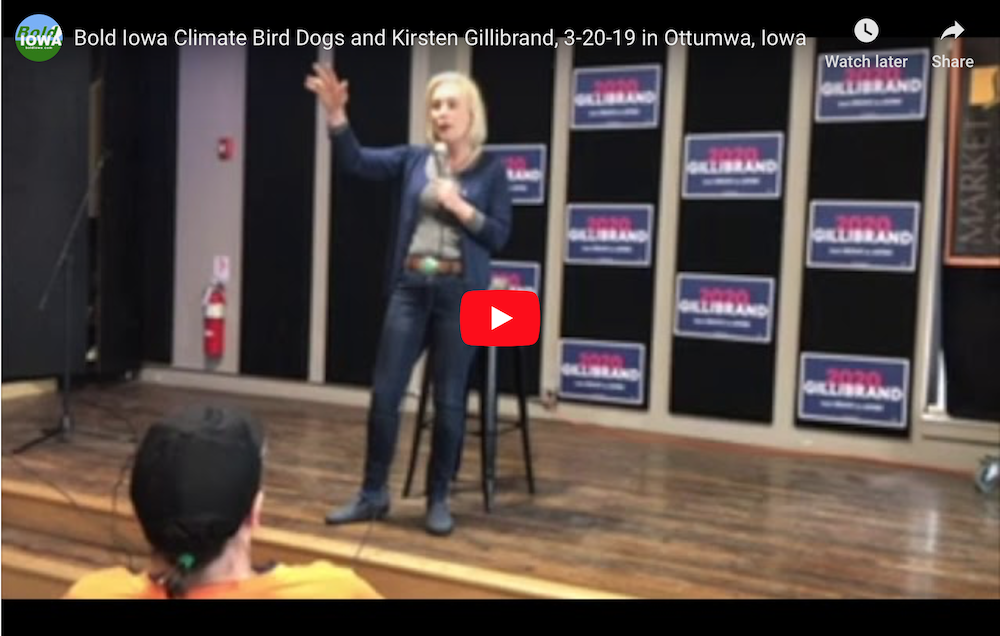 In Ottumwa, Mary Tarnoff captured this video of Gillibrand's response to a question. Mary writes, "I witnessed the same thing I've noticed at other events I've attended: the candidate talking about bold action on climate draws one of the biggest rounds of applause. Also, I was at the State Capitol last week, meeting with legislators, and the Republican representing flood-damaged southwest Iowa seemed more interested in talking about climate change now that it's affecting his constituents directly."
BETO O'ROURKE (Mt. Pleasant, March 15). Mary Tarnoff writes, "Beto came out very strong on climate. He said it was our most important challenge. When asked specifically how he'd tackle it, he said we would need a whole host of efforts from government and the private sector: a massive investment in renewables, a carbon fee, carbon sequestration through forests, etc."
CORY BOOKER (Indianola, March 16). Margaret Vernon asked Booker where he stood on a carbon fee. Booker responded that he supports it generally but would need to see the specific legislation. Booker also called on Samantha Kuhn, who challenged Booker on the depth of his commitment to prioritizing climate action, since he had not spoken much about it at a previous event she attended. Booker responded at length saying that climate is one of his top priorities. He also spoke about the importance of the Green New Deal.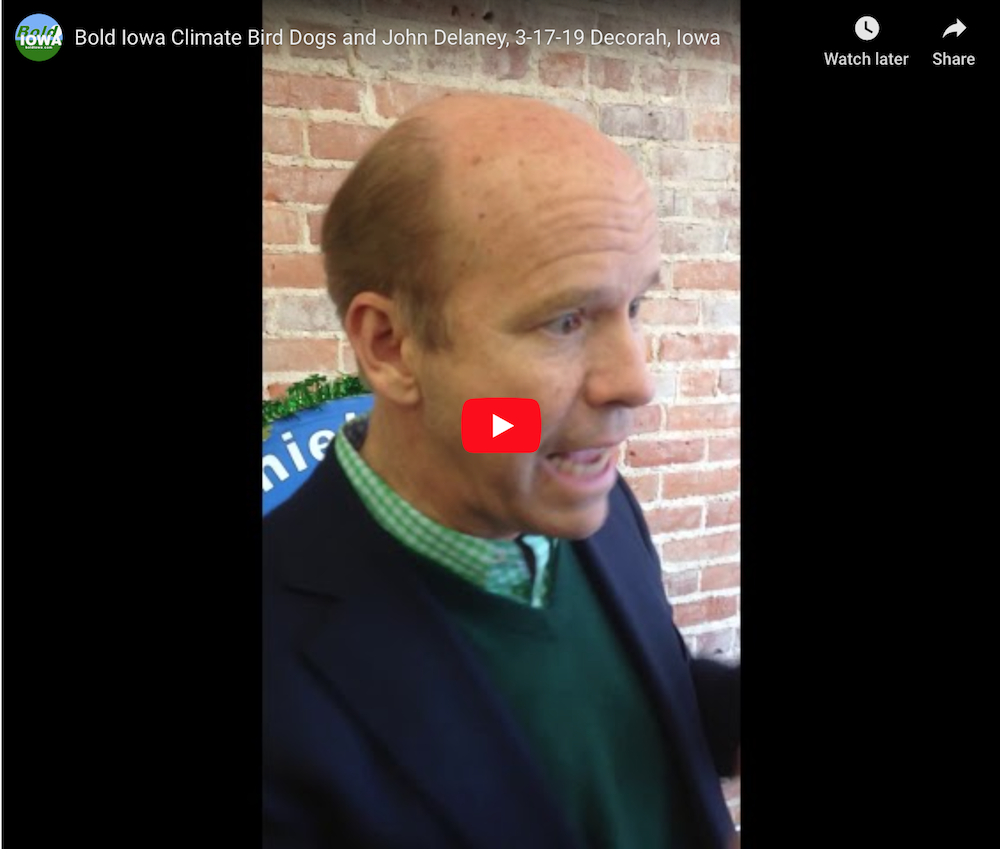 JOHN DELANEY (Decorah and Charles City, March 17). Ruth Huffman captured this video as she spoke with John Delaney in Decorah. Ruth wrote, "I think he's a pretty strong supporter of climate action, though he dismissed the Green New Deal out of hand. He wants to invest in research for machines to pull carbon out of the air. When I suggested that regenerative agriculture does that already, he was completely dismissive."
Julie Fischer writes: "Delaney missed the low hanging fruit. His main message was for huge machines to suck carbon out of the air and inject it into the soil. First off, the machines aren't affordable yet. Second, they most likely would run on fossil fuels. Third, it would take a long time to get them going, and in the meantime, we'd have zero actual results if we do not decrease emissions. Delaney's other climate solution is a carbon tax. How would that work? The solution exists right here in Iowa: the Energy District Model, based on the Soil and Water Conservation Districts, which proliferated across the country in answer to the Dust Bowl debacle. They are still working!"
Mark Kuhn met with Delaney in Charles City and writes, "He answered my question in four parts: support for a carbon tax, tax credits for renewables, re-enter the Paris Climate Accord, and $30 billion per year to the Depart of Energy for new technology to reduce fossil fuels."
AMY KLOBUCHAR (Davenport, March 17). Mike Wilcox writes, "Klobuchar talked about the climate crisis in her opening speech. I asked her where she stands on the Green New Deal and she said she's a co-sponsor. I thanked her for discussing climate in her talk. She is quite funny and had a good rapport with the crowd. She needs to address the staff relationship issues, however."
We need your help to amplify this effort. Please take a minute to SIGN UP TO JOIN CLIMATE BIRD DOGS. We also need your financial support. We are a grassroots effort getting a ton of mileage on a small budget. VISIT THIS LINK TO DONATE. Thanks! — Ed Fallon