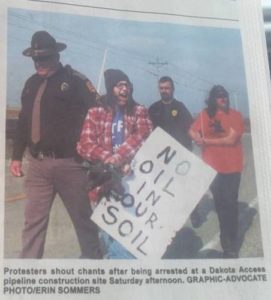 Friday, October 13 at 9:00 a.m.
Calhoun County Court House, 416 4th St, Rockwell City, Iowa
Date is subject to change. Check back closer to date to confirm. Land Protector Emma Schmit and Mahmud Fitil will appear in court in to plead "Not Guilty" to trespassing charges while participating in a Bold Iowa nonviolent action to stop Dakota Access construction. Pipeline Fighters are invited to show up in court and stand in solidarity. Click here for details.