Featured Content:
1. Letter to Greta Thunberg
2. Video of Bird dogs at Polk County Steak Fry
*******
Dear Greta —
I write to invite you to visit Iowa, where the presidential campaign is in full force. Since January, over 250 Bold Iowa supporters have lobbied presidential candidates on the climate crisis. Sometimes we ask questions, listen, and display our signs.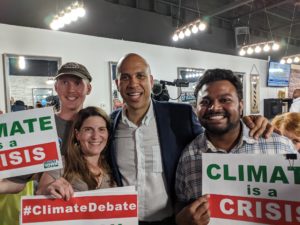 Sometimes we dress as penguins, in response to the tragic collapse of the second largest colony of Emperor Penguins earlier this year.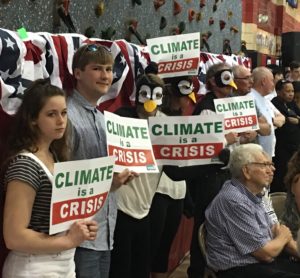 Once, we got arrested protesting President Trump's climate denial at a GOP fundraiser. Five of us go to court next month.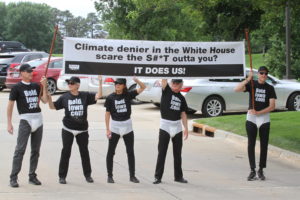 This coming Saturday, we will talk with eighteen Democrats running for president — all in one place!
In addition to you having opportunities to meet with presidential candidates face-to-face, Bold Iowa could organize a farm tour — not just to a big, conventional farm, but to one or more small-scale organic farms, too. My partner, Kathy, and I operate such a farm in the heart of Des Moines, called Birds & Bees Urban Farm.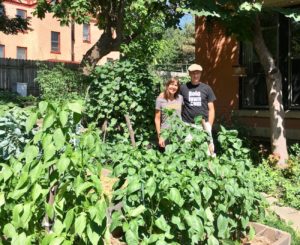 Let me know if such a visit is possible. We will do everything we can to make it an amazingly successful experience. Thank you for all you do for our future!
Ed Fallon, Agitator in Chief
Bold Iowa
*******
Saturday, September 21 in Des Moines, Iowa.
With the recent collapse of the second largest Emperor Penguin colony, Bold Iowa's Climate Penguin Refugees and the Grim Reaper greet presidential candidates at the entrance to the Polk County Democrats Steak Fry, reminding attendees of the growing existential urgency of the climate crisis. (with Kamala Harris, Amy Klobuchar, Beto O'Rourke, Pete Buttigieg, Joe Biden, Cory Booker and Andrew Yang for President 2020 — video by Anmol Pakhale)