Link to original article: http://www.omaha.com/news/iowa/arrested-in-northwest-iowa-while-protesting-dakota-access-pipeline/article_44b9a5e9-e975-506d-baaf-ebd43abeaa18.html
Coverage by Omaha World-Herald, Omaha, Nebraska, October 30, 2016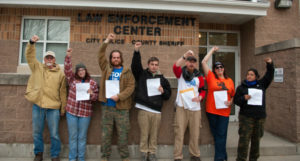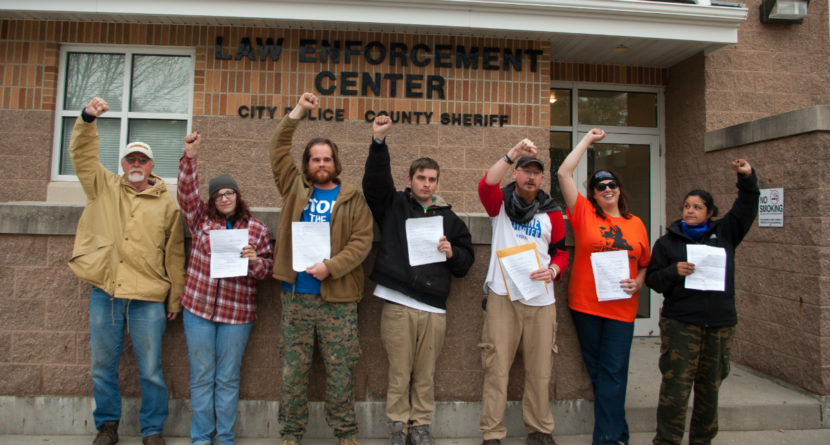 In northwest Iowa, eight people protesting the construction of the Dakota Access pipeline through the Hawkeye State were arrested on Saturday for trespassing.
The arrests came at a farm near Rockwell City, Iowa, where protesters were allowed to set up a "Farmers Dissent Camp" a week ago to object to the pipeline and the use of eminent domain to obtain sections of the route.
Calhoun County Sheriff's Office officials confirmed that arrests had occurred in the county on Saturday.
"People are very frustrated. They feel like they've been betrayed by their public officials. So we've resorted to nonviolent protest," said Ed Fallon of Des Moines, the head of Bold Iowa, a cousin of Bold Nebraska, which fought the Keystone XL pipeline in the Cornhusker State.
Fallon said the eight protesters were arrested just after noon on Saturday after walking onto land intended for the path of the pipeline. He said the arrests came even though some of the people had permission slips from the farm's owner, Shirley Gerjets, to walk on the land.
Bold Iowa has been working against the pipeline for the past two years. While it lost a court request to immediately halt construction earlier this year, it has a lawsuit pending in court challenging the use of eminent domain for the project. The suit maintains that the Texas-based builder of the pipeline does not qualify as a "utility," so it cannot use the power of the state to obtain right of way for the project.
Nearly 200 people have been arrested in Iowa during protests against the Dakota Access pipeline, which is more than 60 percent complete across the state.
Fallon, a former state representative in Iowa, walked the route of the pipeline in 2015 as a protest against the project.