Five years ago on August 9, 2014, the Great March for Climate Action stopped at Ritual Cafe in Des Moines during our 3,100-mile trek across the US. Let's celebrate that memorable day with music, food and drink, and a presidential candidate straw poll.
*** The event is past, but CHECK OUT THE RESULTS OF THE STRAW POLL and pictures from the event here. ***
Friday, August 9, 2019
5:00-8:00 p.m.
Ritual Cafe – 1301 Locust St, Des Moines, Iowa 50309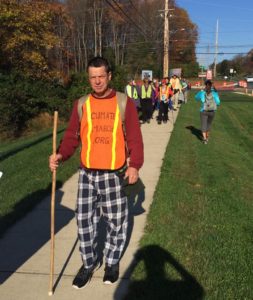 EATS. Free Ben & Jerry's ice cream! We also encourage you to purchase other food and drink from one of Des Moines' best local businesses, Ritual Cafe.
MUSIC. Dartanyan Brown will perform a set, and we'll enjoy a traditional Irish jam session from some of Des Moines' best performers.
SPEECHES. We'll hear reflections from a few of the 2014 marchers, and get an update from Bold Iowa on its work to bird-dog the presidential candidates on climate (see boldiowa.com/climate-bird-dogs/).
STRAW POLL. Vote for your top five candidates for president. Ed Fallon will release the results on Monday during the 11:00 a.m. broadcast of the Fallon Forum (see fallonforum.com).
FREEWILL DONATIONS APPRECIATED. Donate $20 or more and get an autographed copy of Ed Fallon's book: Marcher, Walker, Pilgrim (see boldiowa.com/marcher-walker-pilgrim/).
Click here for the Facebook event.
SPONSORS. Thank you to everyone supporting our continued Climate Action efforts.
Alan Yegge
Barb Norblom
Ben Fallon
Ben & Jerry's Ice Cream
Bob & Rita Krasen
Carla McIntire
Carolyn Fallon
Channing Dutton
Charles Goldman
Chet Guinn
Daenna Newkirk
Dave Brotherson
Ed Fallon
Eddie Mauro
Fionna Fallon
Griffieon Family Farm
Indigenous Iowa
Jeff Kisling
Judy Anderson & Tom Leffler
Jim Murphy
John Rachow
Jon Krieg & Patti McKee
Kathy Byrnes
Lee Tesdell
LULAC Council 307
Lora Fraracci
Margaret & Jon Vernon
Mark Clipsham
Maureen McCue
Miriam Kashia
Phil Hahn
Realty with Ahart
Ritual Cafe
Ron Yarnell
Roxi Fallon
Shari Hrdina
Shirley Fallon
Tony & Ashley Bohnenkamp
Women's International League for Peace & Freedom, Des Moines Chapter